Hair Extensions Ottawa - Hair Extensions Near Me In Ottawa
Order hair extensions in Ottawa on CanadaHair.ca!
Yes! We do ship to Ottawa. Stop paying for overpriced hair extensions in Ottawa. With Canada Hair, a hair extension company in Ottawa, it's now easier than ever to order online hair extensions and have them delivered at your doorstep in Ottawa. Whether you're interested in clip-in hair extensions in Ottawa, tape-in hair extensions in Ottawa, or any other hair extensions methods, Canada Hair is your answer. Our clip in hair extensions are ideal if you never had extensions before or if you wish to wear extensions with no commitment. For an amazing selection of ottawa hair extensions, look no further than Canada Hair! With free shipping and no duty fees, you won't find a better deal on top quality hair extensions. Plus, feel confident in your purchase by reading thousands of stellar reviews left by satisfied customers. Canada Hair also offers free swatches of the hair extensions so you can compare colors and textures before making your decision. So if you're looking for ottawa hair extensions, rest assured that Canada Hair have got you covered!
"Why is it hard to buy hair extensions in Ottawa?"
Shop Ottawa's best-selling hair extensions, hair toppers, and wigs!
---
Hair Extensions delivery in Ottawa | Canada Hair
Canada Hair already shipped 1173 orders to Ottawa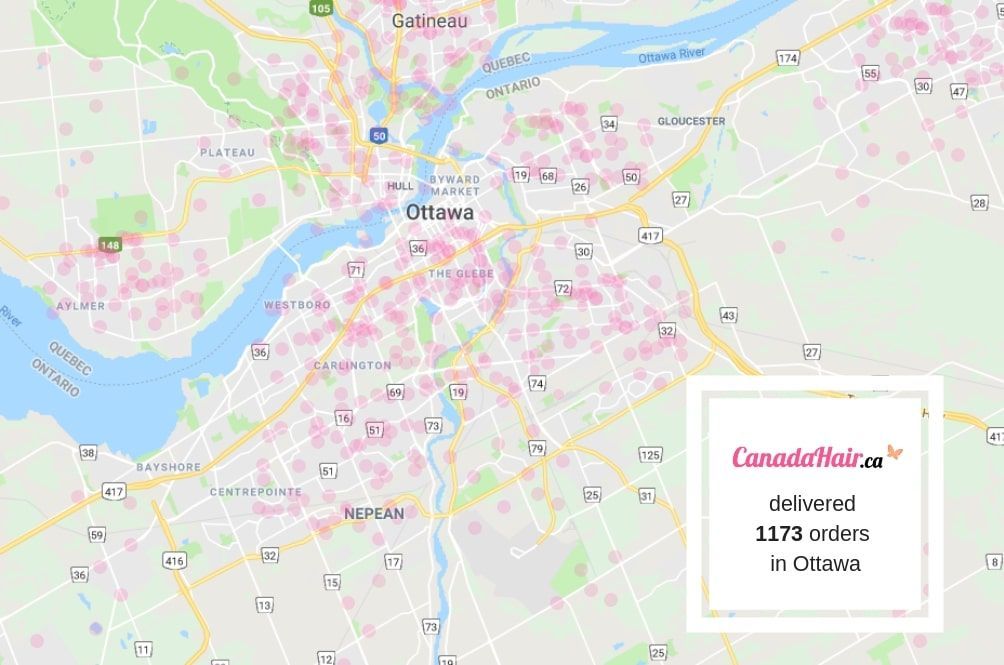 Most Canada Hair customers in Ottawa prefer to wear clip-in extensions.
Why are clip-in extensions the preferred hair extensions in Ottawa?
The answer why clip-in extensions are the best extensions in Ottawa is simple.
Clip-ins are the perfect entry-level hair extensions.
They can be installed by yourself at home in Ottawa, which means they are perfect if you want to try out hair extensions or are in a rush. You can also remove them safely and discretely.
Ready for the transformation? Browse colors!
Other popular hair extensions in Ottawa are tape-ins, micro loops, fusion, and sew-ins. Browse all hair extensions types.
Shipping to your city takes 1 to 7 business days after placing your order.
Have a question? Our customer service team is at your disposal if you have any questions!
---
Hair Extensions reviews Ottawa
...and here are some customer reviews from Ottawa:
---
---
Hair Extensions: retail stores vs Canada Hair
The best extensions in Ottawa: order online or buy in retail stores?
Retail Stores
Expensive hair extensions: offline retailers have much more expenses to cover, therefore likely their products are more expensive than if you buy online.

Poor color uniformity: the coloring of certain sets should always be consistent - but often this is not the case at offline retailers.

Hair colors may not match: if the coloring is not perfect, it will not match your hair and blend with it.

No quality control: brick-and-mortar stores have to buy their products from suppliers, which also means they have no control over the quality.

Limited Inventory: with limited space, offline stores also have a limited range of offerings.

You might waste your time: it can be hard to find a local store that has exactly what you need - and it the end the search might prove to be a complete waste of time.
Affordable hair extensions: according to reviews, Canada Hair is the best place to buy quality hair extensions online in Canada.

Consistent hair colors: the coloring of our extension sets is always consistent.

Beautiful colors: all of our products are colored with the right processes, providing a seamless blend.

Strict quality control: every single one of our hair extensions is subject to rigid quality control.

Huge variety of choices: we have a very wide range of hair extensions available in our store.

Super fast shipping everywhere: every order is shipped from Canada: you can expect to receive them in 1 to 7 days.

Hassle-free return policy: not satisfied? We provide a full refund and even pay for returning the products!

Best customer service: our team is eager to help you any time: if you have questions, reach out to us!

Popular in Ottawa: we have already shipped thousands of extensions to satisfied customers in Ottawa - we are proud to say Canada Hair is a top pick!
---
Why buy from Canada Hair?
"I can't wait to show them to all of my friends!"
Based on reviews, Canada Hair is a top pick to buy affordable hair extensions in Canada.
Every hair extension in our store is guaranteed to be high-quality and blends seamlessly with your hair.
We manufacture hair extensions ourselves - meaning we control the quality all the way through!
All orders are shipped quickly, from Canada, expect to receive them in 1 to 7 days. (You can also track them online 24/7!)
We have a very flexible return-policy: if you are not satisfied, you can ship back the extensions and we pay a full refund and even the shipping cost.
Get longer and thicker hair right now!
---
Hair Extensions Supplier in Ottawa, Canada
"Can you be my hair extension suppliers?"
Yes, we can be. We'd love to be!
We already work with lots of hair salons and shops in your area. We help hair salons in Ottawa have happier customers by offering them quality products at affordable prices.
This is how it works:
1. Fill in our quick form to be approved for an exclusive price discount.
2. Once approved, all prices will be adjusted when you sign in with your account.
Exclusive access to reduced pricing on all hair extensions and hair tools

No minimum order required

Quality hair extensions that went through rigid quality control

Fast shipping to anywhere in Canada

Customer service at your disposal to answer all your questions.
Let's be partners and work together. Are you ready? Fill in our form now!
---
Human remy hair extensions Ottawa
Not sure what you need? These are our most popular products in Ottawa:
Ottawa Clip in hair extensions
Clip-in extensions are the best choice if you want a try-out: they can be easily installed and removed by yourself, even if you are a beginner in hair extensions.

This also means they are a very low-cost solution, because you don't need a hairdresser, and they are perfect too if you are in a rush.
---
Ottawa Tape-in hair extensions
Designed in a way that they are perfect for fine hair: their weight is evenly distributed, giving you more hair while still being comfortable.

They can be installed in under 30 minutes by a hairdresser: the adhesive will hold the extension firmly and can even be removed to be used again.
---
Ottawa Micro-loop hair extensions
If you don't want to use strong adhesives to install your hair extension, this is the best solution for you. They are secured by plastic clips, so you can avoid using heat altogether.

Using the micro-loop extensions that are made of 100% real hair you can achieve a completely natural, discrete look.
---
---
---
---
Is Canada Hair a hair extension supplier in Ottawa?
Yes, Canada Hair is a known hair extension supplier in Ottawa. If you are in the GTA or anywhere in Canada, you can benefit from Canada Hair wholesale program. All hair salons in Ottawa and hairstylists in Ottawa can qualify for our exclusive hairdresser program. By signing up, you automatically save big on hair extensions in Ottawa. You can order among thousands of different hair extensions and wigs from the comfort of your hair salon or home. Our extensions will blend seamlessly with your customers' hair for a natural result.
What are the best hair extensions in Ottawa to buy?
The best hair extensions to buy in Ottawa are Canada Hair clip-in extensions. These extensions are easy to apply & remove. You can dramatically transform your hairstyle in a few minutes only. Canada Hair Clip-ins are safe, comfortable, and will blend seamlessly with your natural hair. The most popular hair extensions in Ottawa are clip-in extensions 18 inch long.
Does Canada Hair sell fusion hair extensions in Ottawa?
Yes, Canada Hair does sell high-quality fusion human hair extensions in Ottawa. Also called prebonded hair extensions, Canada Hair fusion extensions are offered in different shades & hair lengths. Buy hair extensions in Etobicoke, hair extensions in Vaughan, hair extensions in Richmond Hill, hair extensions in Scarborough, and anywhere else in the GTA on Canada Hair.
Cheap hair extensions Ottawa
Canada Hair proudly offers quality hair extensions in Ottawa at unbeatable prices. As a hair extension pioneer in Canada and the leading hair extension brand in North America, Canada Hair extensions are the best extensions if you're on a budget!
Tape in hair extensions Ottawa - hair extension store near me
You can shop among different types of tape in extensions sold on Canada Hair. All our tape in extensions are available in different hair lengths, hair colors, and hair styles. Whether you're interested in short tape in extensions in Ottawa or long tape in extensions in Ottawa, we got it all! Discover our black tape in hair extensions, brown tape in hair extensions, ombre tape in hair extensions, highlighted tape in hair extensions and blonde tape in hair extensions!
Other Hair Extensions & Wigs By Cities