Hair Extensions Winnipeg
---
Hair Extensions delivery in Winnipeg | Canada Hair
Canada Hair already shipped 619 orders to Winnipeg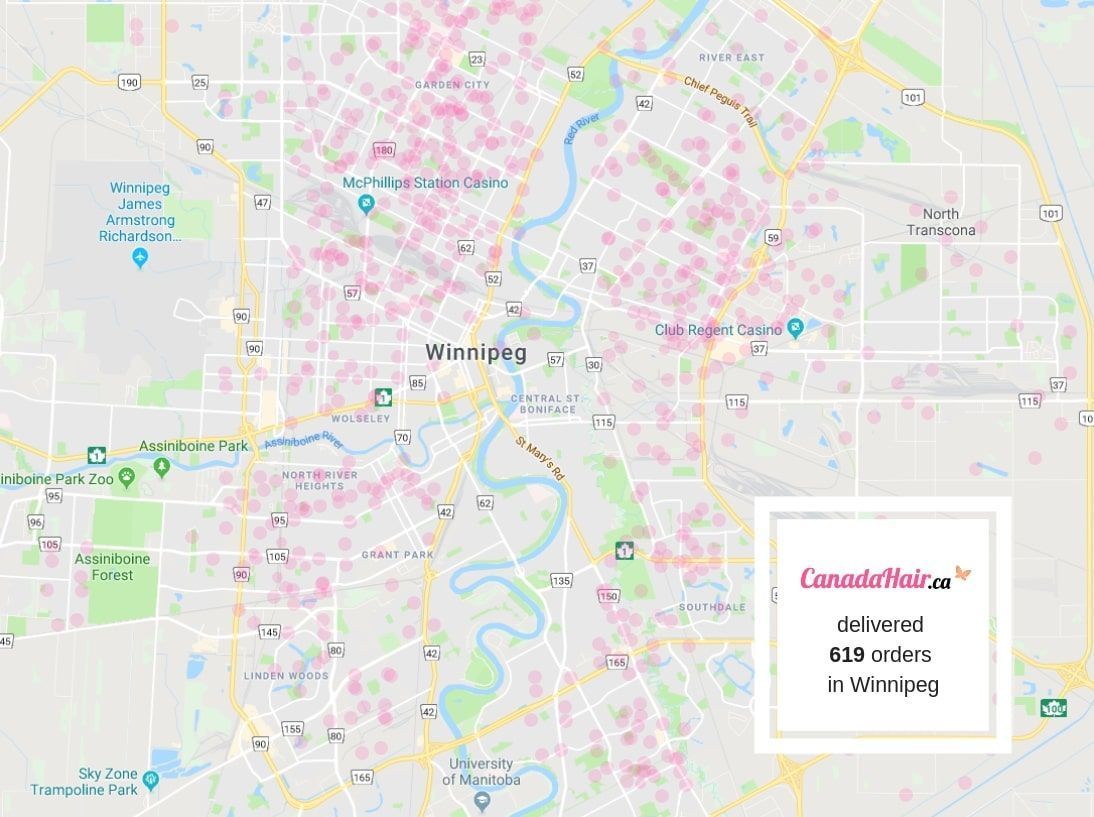 Most Canada Hair customers in your area prefer to wear clip-in extensions.
Clip-ins are popular because they are a non-permanent, entry level solution that is very cost-effective: you can install them yourself, at home, without the help of a hairdresser in only minutes.
Ready for the transformation? Browse colors!
Other popular hair extensions are tape-ins, micro loops, fusion, and sew-ins. Browse all hair extensions types.
Shipping to your city takes 1 to 7 business days after placing your order.
Have a question? Our customer service team is at your disposal if you have any questions!
---
---
Hair Extensions reviews Winnipeg
...and here are some customer reviews from Winnipeg:
---
---
Hair Extensions: retail stores vs Canada Hair
The best extensions in Winnipeg: order online or buy in retail stores?
Retail Stores
Expensive hair extensions: retail stores are more often than not more expensive than online stores.

Poor color uniformity: the same sets are sometimes not colored the same way.

Hair colors may not match: the coloring of the products is a very important factor: if it is not done right, they will not blend with your hair.

No quality control: as retail stores get their products from suppliers, they do not control the quality of them.

Limited Inventory: being limited by the floor space, brick-and-mortar stores don't have the same range of offerings as online stores.

You might waste your time: the right extensions can be hard to find - the store that sells exactly what you need may be even harder.
Affordable hair extensions: Canada Hair

is often said to be the best place to buy high-qulity extensions from in Canada.

Consistent hair colors: we make sure that the coloring of certain sets is always uniform.

Beautiful colors: all our extensions are colored with the right methods, which means they blend with your hair perfectly.

Strict quality control: we control the quality of all the products that are sold in our store to guarantee the highest quality.

Huge variety of choices: you will find a very wide array of products in our online store.

Super fast shipping everywhere: as we ship all orders from Canada, you can always epect to receive them in 1 to 7 days, with online tracking.

Hassle-free return policy: when you are not satisfied, we accept returns and provide a full refund with a hassle-free policy.

Best customer service: if you want to ask us something, do it now! Our team awaits your questions!

Popular in Winnipeg: we have thousands of satisfied customers in your area.
---
Why buy from Canada Hair?
"I can't wait to show them to all of my friends!"
Canada Hair is frequently reviewed as the best place to buy hair extensions in Canada.
All extensions are made of quality hair so that it blends seamlessly with your own.
We're also a hair extensions manufacturer so we can offer you hair extensions at affordable prices.
All orders ship quickly in Canada and are traceable online 24/7
You get a full refund on your order if you aren't satisfied. Simply follow our hassle-free return policy. We also pay your return fees, so you literally have nothing to lose!
Get longer and thicker hair right now!
---
Hair Extensions Supplier in Winnipeg, Canada
"Can you be my hair extension suppliers?"
Yes, we can be. We'd love to be!
We already work with lots of hair salons and shops in your area. We help hair salons in Winnipeg have happier customers by offering them quality products at affordable prices.
This is how it works:
1. Fill in our quick form to be approved for an exclusive price discount.
2. Once approved, all prices will be adjusted when you sign in with your account.
Exclusive access to reduced pricing on all hair extensions and hair tools

No minimum order required

Quality hair extensions that went through rigid quality control

Fast shipping to anywhere in Canada

Customer service at your disposal to answer all your questions.
Let's be partners and work together. Are you ready? Fill in our form now!
---
Human remy hair extensions Winnipeg
Not sure what you need? These are our most popular products in Winnipeg:
Clip in hair extensions
As a non-permanent, entry-level solution, clip-in extensions are the most popular type. They are also very cost-effective. Why?

Because you can install them in your home easily, you don't need to visit a hair stylist or spend on professional help: if you want to try extensions, in a hurry or just want simplicity, they are the perfect choice.
---
Tape-in hair extensions
Tape-in extensions are the ones if you have fine, thin hair: they are very lightweight and comfortable. DIstributing weight evenly comfortable wear is ensured.

They are fairly quick to install (it can be done under 30 minutes by a hairdresser) and are reusable, so you don't have to buy new ones every time.
---
Micro-loop hair extensions
This is a kind of extension that is perfect for those who want to avoid using heat or adhesives: the pre-installed loops on every strand guarantee a firm hold and comfortable wear.

All of the extensions are made of 100% real human hair, providing a completely natural and customizable look for you.
---
Fusion hair extensions
Fusion types are perfect for those with experience in wearing hair extensions. They have a firm, secure bond, provided by the glue that is pre-installed on them.

As they are permanent extensions, they require maintenance: you will have to visit the salon often, but they are also comfortable to wear.
---
Sew in hair extensions
For women with thick and coarse hair this is a great solution: as your hair is completely covered, you are able to try out a whole range of textures, colors and lenghts.

They are also very popular recently, and not only with customers but also with celebrities, models and fashionistas.
---
---
With Canada Hair, it's now easier than ever to order hair extensions from Winnipeg. Indeed, our secured website gives you access to thousands of different hair extensions available in Winnipeg at affordable prices. You can easily order online in Winnipeg hair extensions and wigs made of real remy human hair with quick and free delivery. All orders of hair extensions in Winnipeg are delivered for free, quickly, and are traceable online 24/7. If you're unsure which hair color to pick from, and you wish you could see the hair extension color in person in Winnipeg before making a decision, keep in mind that we offer 2 free color swatches. Simply pick the 2 color swatches you want and it will be delivered at your doorstep by Canada Post. The most popular hair extensions in Winnipeg are human remy hair extensions. These extensions are soft, easy to blend with your own hair, and are the best-selling hair extensions in Winnipeg.
Other Hair Extensions & Wigs By Cities