Hair Extensions Vancouver
---
Hair Extensions delivery in Vancouver | Canada Hair
Canada Hair already shipped 2078 orders to Vancouver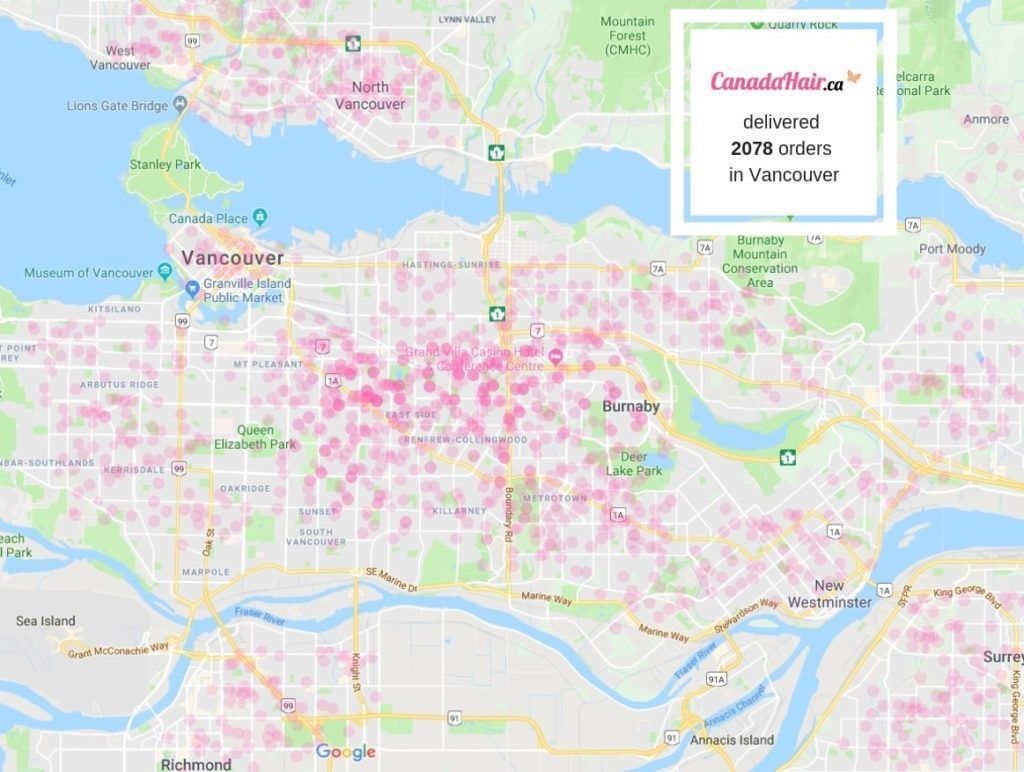 Most Canada Hair customers in your area prefer to wear clip-in extensions.
Why clip-ins? Because you don't need a hairdresser to install them: you can simply gain long and beautiful hair in mere minutes at home, by yourself. Installing them is as simple as popping the clips open and then attaching to your hair. This is the easiest way to get the hair you always wanted.
Ready for the transformation? Browse colors!
Other popular hair extensions are tape-ins, micro loops, fusion, and sew-ins. Browse all hair extensions types.
Shipping to your city takes 1 to 7 business days after placing your order.
Have a question? Our customer service team is at your disposal if you have any questions!
---
---
Hair Extensions reviews Vancouver
...and here are some customer reviews from Vancouver:
---
---
Hair Extensions: retail stores vs Canada Hair
The best extensions in Vancouver: order online or buy in retail stores?
Retail Stores
Expensive hair extensions: retail stores have a lot of costs to cover, so extensions are more pricey.

Poor color uniformity: the same color can be different from one set to another.

Hair colors may not match: if the extensions weren't colored properly, the color may be off.

No quality control: since retail stores buy from suppliers, they can't control the hair quality.

Limited Inventory: as the stores are limited by space, a lot of hair colors could be missing from their offerings.

You might waste your time: it's not easy to find a local store with the right extensions.
Affordable hair extensions: Canada Hair is the place if you want to buy high-quality hair extensions for an affordable price (based on our reviews)!

Consistent hair colors: color uniformity is always perfect with our products.

Beautiful colors: we pay great attention to provide the most beautiful colors.

Strict quality control: our quality control process is very strict, therefore you only get the best extensions.

Huge variety of choices: in our store, you can find any type or color of extension that you need, for all hair types.

Super fast shipping everywhere: your order will arrive in 1 to 7 days to anywhere in Canada.

Hassle-free return policy: if you are not satisfied, we offer you a full refund, and even pay for shipping back the product.

Best customer service: have any questions? Feel free to contact our customer service at any time!

Popular in Vancouver: we are proud to say: with hundreds of satisfied customers, we are a top pick in Vancouver.
---
Why buy from Canada Hair?
"I can't wait to show them to all of my friends!"
According to the customer reviews, Canada Hair is the best place to buy hair extensions from in Canada.
Every one of our products is made from quality hair, with strict quality control.
As we ourselves are also manufacturers of hair extensions, our prices are always affordable.
We offer quick shipping to anywhere in Canada (1 to 7 days) with the option to track your orders online.
If you are not satisfied with the product you received, just follow our return policy and you get a full refund (and we even pay for shipping).
Get longer and thicker hair right now!
---
Hair Extensions Vancouver cost
How much do hair extensions cost in Vancouver?
Here's a chart of hair extensions cost in Vancouver.
These are the prices of Canada Hair extensions, the best place to buy extensions in Vancouver. Whether you are searching for clip-in hair extensions in Vancouver or any other human hair products, Canada Hair is the solution. Our human hair extensions are made of high-quality hair for a natural & discreet result.
Hair extension type

Hair extension cost

(starting at)
clip-in extensions synthetic hair
$49
clip-in extensions human hair
$109
tape-in extensions human hair
$99
micro-loop extensions human hair
$39
fusion extensions human hair
$39
sew-in extensions human hair
$109
ponytail extensions synthetic hair
$49
ponytail extensions human hair
$189
To buy the best hair extensions in Vancouver, shop on Canada Hair!
---
Hair Extensions Supplier in Vancouver, Canada
"Can you be my hair extension suppliers?"
Yes, we can be. We'd love to be!
We already work with lots of hair salons and shops in your area. We help hair salons in Vancouver have happier customers by offering them quality products at affordable prices.
This is how it works:
1. Fill in our quick form to be approved for an exclusive price discount.
2. Once approved, all prices will be adjusted when you sign in with your account.
Exclusive access to reduced pricing on all hair extensions and hair tools

No minimum order required

Quality hair extensions that went through rigid quality control

Fast shipping to anywhere in Canada

Customer service at your disposal to answer all your questions.
Let's be partners and work together. Are you ready? Fill in our form now!
---
Human remy hair extensions Vancouver
Not sure what you need? These are our most popular products in Vancouver:
Clip in hair extensions
Do you want luxurious hair in a few minutes, without having to visit a hairdresser? Clip-in is exactly that: a simple, quick solution to start your transformation.

You can install these at home, by yourself. It's a stress-free extension solution for you to get the thick, long hair you always wanted.
---
Tape-in hair extensions
Designed in a special way for thin hair, tape-in extensions are the one if you are looking for a lightweight, comfortable solution that blends naturally with your hair.

They are discrete and provide that thick, long hair you are longing for. Installing them is easy and very quick, and they are all made of soft, silky real hair.
---
---
Fusion hair extensions
Fusion extensions provide the firmest hold on your hair. As glue is pre-installed on each and every strand, they create a very secure bond with your hair.

It is the solution for a course and thick hair if you want your extensions to really last long and also provide the most luxurious look possible.
---
Sew in hair extensions
Models, fashionistas, celebrities: they are all in love with this solution, which is, possibly surprisingly, is also the most cost-effective solution among extensions.

They provide you the wow-factor on a long-term, and of all the permanent hair extension solutions they are they cheapest not only to buy but also to install.
---
---
Other Hair Extensions & Wigs By Cities