Clip in hair extensions
Learn how to install clip in hair extensions
Clip-ins are often considered entry level to the world of hair  extensions. However, the main advantage when compared to others types of extensions is that you can install them in just a few minutes. So you can switch up your hairstyle whenever you want. Best of all, you can do it in the comfort of your own home. No trip to the salon required!

Consequently, clip in extensions are the cheapest hair extensions because you only pay for the actual extensions, and not for the installation. You get a great style for a fraction of the price. Plus with the right care, clip ins can last a very long time! You can use the money saved to buy different colors and lengths to get more versatility.
This article will explain to you how to install clip in hair extensions in just a few easy steps!
Clip in hair extensions have many advantages.
But what should you exactly do once you get the extensions? How to install clip in hair extensions properly? Can you put in clip in hair extensions yourself? All of these questions will be answered in this guide teaches you how to be a pro in no time.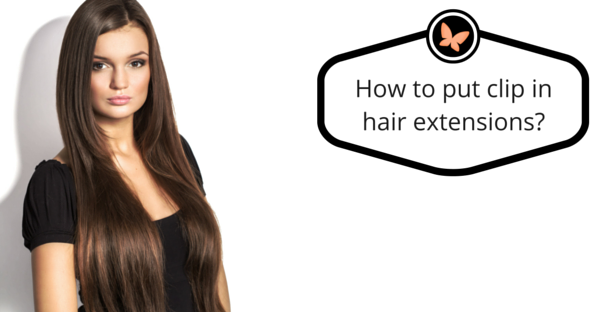 How to put in clip in hair extensions
You can install them in a matter of minutes! As the name implies, the extensions literally clip into your hair
This is why clip in extensions are the most popular type of hair extensions method. Once purchased your clip ins will arrive ready to go, while other hair extensions may be complicated and expensive to install.
The process to put in clip in hair extensions yourself is very easy and straightforward. These are the steps on how to apply clip-in extensions yourself:
Before you begin, make sure that you use a hair comb with a pointy end (rat tail comb), a paddle brush, sectioning clips or scrunchies and a mirror.


Give your hair a good brush, using a paddle brush, as this will allow you to keep it detangled and manageable when your sectioning it throughout the whole process. 

Remember that you can open each clip just by applying a little pressure on them. 

Clip in extensions on Canada Hair

come with the clips pre-installed on the hair wefts.



The pointy comb will allow you to section your hair a lot better and that's what you need to focus on right off the bat. Try to get your partings as straight as possible. This will not only hide the extensions evenly but it will also make it easy to remove them.

Start from the back of your head and attach the wefts by working your away from the nape of your neck upwards. Use a comb or fingers to separate thin sections of hair at the nape of your neck and put the rest of your hair away. We recommend starting with the 3 clip weft.



Hairspray on the roots will add extra hold if your hair is not very thick. When the weft is clipped brush it gently to make sure that it is also tangle free and that it's securely attached to your hair.

The next section will be about 1 inch higher, than the first one. Open the clips on the second piece of clip extension and attach it in the same way you did the first making sure to secure each clip as you go along.


Now that the bottom section is complete you can start working on the top section in the same fashion. The next section should go from ear to ear and you can clip the largest weft in your crown area. Follow this pattern until you are 1-2 inches away from your part so you have enough hair to cover the weft.


When you are done with the back of you head, it's time for the sides of your head. Starting by separating a thing section of your hair 2 inches above your ear and clip your 2 clip wefts on each side. Lastly, right above the side wefts secure the last individual pieces.



Clip in extensions look best when there is about a 1-inch gap in between each layer so take horizontal section about this distance.

Once your clips are all perfectly positioned and secured you can gently brush your hair to make everything blend better.

If you have a side parting, you want to make sure there is still a good balance of hair on each side so you may want to place a few more rows on the thinner side just that it looks as full as the other.
In just 11 steps you can go from  clip in extensions novice to pro. It may take a few tries to get the hang of it, but practice makes perfect. We are sure that you will fall in love with clip in just as many others have. Give them a shot and you will not be disappointed! 
Because you can #install #clip in extensions yourself without the need of a hairdresser, this hair extensions method is automatically the cheapest one because you are only paying for the extensions, and not for the installation.

— Canada Hair (@CanadaHair) 2018. március 1.
If you have any difficulties putting clip in extensions yourself, please don't hesitate to send us an email! We will be more than happy to help you and answer any questions you may have.
Clip in hair extensions can be bought on our website at low prices. Our company operates and ships from Canada, so delivery is very quick. You are also shopping securely by choosing a Canadian company because we comply with all Canadian laws.
If you want to get the best clip in hair extensions, visit Canada Hair. We are a national hair extensions distributor of quality hair extensions at low prices.
Reason #1: Proudly a Canadian company! All orders ship quickly from Canada (and are delivered in 1 to 5 days only!) All prices are listed in Canadian dollars & all transactions are 100% secured. There are no duty fees! We accept Visa, MasterCard, PayPal, bank transfer, check, and money order!
Reason #2: Easy hassle-free return policy (we even pay your return fees so you literally have nothing to lose!)
Reason #3: Frequently reviewed as the best place in Canada to buy high-quality hair extensions and wigs at affordable prices! Read Canada Hair customers reviews ★★★★★
Reason #4: Only company to hand out FREE hair colour samples! If you're unsure which hair extension colour to pick, you can request 2 free hair colour swatches. It's free and will be delivered by Canada Post in 4 to 10 days.
Reason #5: Earn rewards points on all your purchases and redeem those points for discounts.
Furthermore, we offer hair samples so that you can try each type of hair extensions at a fraction of the price and be comfortable making the right decision for your hair type.
We also have a free color match service! To find the right color on Canada Hair, here are your options:
Get 2 free color swatches by mail
Order samples (include gift card!)
Order our full color ring (includes gift card!)
Send us a selfie for our personal recommendations!