Clip in hair extensions
Learn how to install clip in hair extensions
Clip-ins are often considered entry level to the world of extensions. However, the main advantage when compared to others types of extensions is that you can install them in just a few minutes. So you can switch up your hairstyle whenever you want. In other words, you can install these extensions from the comfort of your home without having to book an appointment with a hairdresser.
Consequently, clip in extensions are the cheapest hair extensions because you only pay for the actual extensions, and not for the installation. You get a great style for a fraction of the price. Plus with the right care, clip ins can last a very long time! You can use the money saved to buy different colors and lengths to get more versatility.
This article will explain to you how to install clip in hair extensions in just a few easy steps!
Clip in hair extensions have many advantages.
But what should you exactly do once you get the extensions? How to install clip in hair extensions properly? Can you put in clip in hair extensions yourself? All of these questions will be answered in this guide teaches you how to be a pro in no time.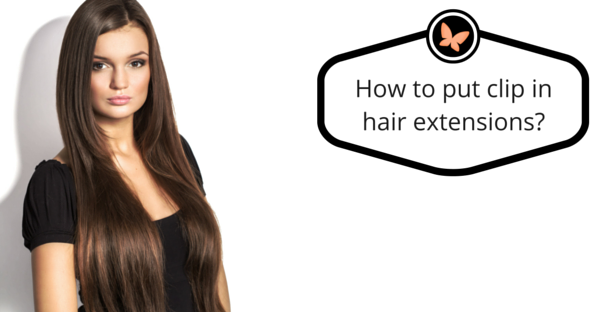 How to put in clip in hair extensions
Yes, you can put in clip in hair extensions yourself.
This is why clip in extensions are the most popular type of hair extensions method. Once purchased your clip ins will arrive ready to go, while other hair extensions may be complicated and expensive to install.
The process to put in clip in hair extensions yourself is very easy and straightforward. These are the steps on how to apply clip-in extensions yourself:
Before you begin, make sure that you use a hair comb with a pointy end (rat tail comb), a paddle brush, sectioning clips, hairspray, a mirror and hair ties.


Give your hair a good brush, using the paddle brush, as this will allow you to keep it seamless and prepare it properly for the task ahead. It's really important that before you put in the clip in hair extensions, your hair is free of any knots or tangles. Don't skip this crucial step.

Remember that you can open the clip in hair extension just by applying a little pressure on them. Don't pressure too much.

Clip in extensions on Canada Hair

come with the clips pre-installed on the hair wefts. To open or close the clips, push them and the edges and they will snap into place.



The comb will allow you to section your hair a lot better and in the end that's what you need to focus on right off the bat. Try to get your partings as straight as possible. This will hide the extensions and make them easy to take out.

The first section will go across the back of your head from ear to ear. You can use a mirror to check it is in the right place. Take a weft of the clip in hair and place it just below the parting. Use the clips on each end to secure it to your hair and click them into place. They are really secure and won't come loose



Hairspray on the roots will add extra hold and is super important if your hair is not very thick.

The next section will be a few inches higher, just above the ear. You can add in an additional weft 1 inch above the second for extra volume and a seamless blend with your natural hair.


Follow this pattern until you are 1-2 inches away from tour parting so you have enough hair to cover the weft.


Keep the small wefts as they can be added to the sides of the head for extra volume. Maintain the same 1-inch distance from the ears in order to get the best results.



Once all of the clip ins are in place, go ahead and style as you want. You can curl, straighten or leave them natural. Add hairspray to finish then you are all done!
In just 10 steps you can go from  clip in extensions novice to pro. It may take a few tries to get the hang of it, but practice makes perfect. We are sure that you will fall in love with clip in just as many others have. Give them a shot and you will not be disappointed! 
Because you can #install #clip in extensions yourself without the need of a hairdresser, this hair extensions method is automatically the cheapest one because you are only paying for the extensions, and not for the installation.

— Canada Hair (@CanadaHair) 2018. március 1.
If you have any difficulties putting clip in extensions yourself, please don't hesitate to send us an email! We will be more than happy to help you and answer any questions you may have.
Clip in hair extensions can be bought on our website at low prices. Our company operates and ships from Canada, so delivery is very quick. You are also shopping securely by choosing a Canadian company because we comply with all Canadian laws.
If you want to get the best clip in hair extensions, visit Canada Hair. We are a national hair extensions distributor of quality hair extensions at low prices.