If you are in the process of buying clip in extensions, you may have noticed some stores only give the benefits of wearing clip in extensions. Although there are many pros of wearing clip in extensions, there are also a few cons if they are not used correctly.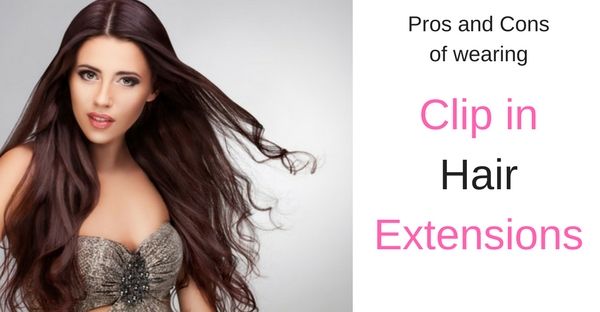 Clip in hair extensions pros
Clip in hair extensions come with no commitment
Probably the most important aspect of hair extensions: clip in extensions come with no commitment. In other words, you are not stuck with them. Sometimes, we change our mind and that's totally fine. Perhaps you only need extensions for a special occasion like a wedding or a high school prom. In that case, clip in extensions are the best extensions for such occasions. Some extensions need to be installed by a professional, we call them permanent hair extensions because they last a few weeks and even months attached to your hair. This means you will have to commit to wearing extensions and caring for these hair extensions. Clip in extensions are the best extensions for someone who wish to wear extensions occasionally.
Clip in hair extensions are easy to install in a few minutes
 Clip-in hair extensions are your quick, temporary and hassle-free solution to achieve longer, fuller and beautiful hairstyles in a matter of minutes! As the name implies, the extensions literally clip into your hair. Since clip-ins are not for permanent use and do not require bonding or other methods that can damage your hair, they are completely safe to use. Best of all, you can do it in the comfort of your own home. No trip to the salon required!

Clip in hair extensions are the most affordable hair extensions
As mentioned earlier, you don't need to have clip in extensions installed by a professional. As a result, you are already saving money because you are not paying get them professionally installed at a salon. This makes clip in extensions the most affordable extensions on the market. Additionally, only 1 pack of hair is enough. For instance, if you wish to wear tape in extensions, you need a few packs of hair, normally 3 to 5 packs of hair.
Canada Hair clip in extensions extensions come in sets that differ in weight and lengths. This is to ensure that no matter your hair type (thin hair, short hair, medium hair or thick hair) our clip-in hair extensions can blend in naturally with your unique hair type and is virtually undetectable.

Clip in hair extensions are comfortable
What's the point of wearing hair extensions if you are not comfortable wearing them? Clip in extensions are comfortable because they are lightweight. You may feel that your head is heavier than usual, but this feeling will go away after a few minutes. Once you are used to wearing clip in extensions, you will feel as if your new hair is your real hair.
Clip in hair extensions cons
Clip in hair extensions must be removed and installed every day
You must remove your clip in extensions every single day. No, you cannot sleep with your extensions. It will be very uncomfortable to sleep with your clip in extensions. They are not designed to be worn permanently, as this can damage hair follicles. For that reason we advise our customers to take them out before going to sleep to avoid such damage.
Clip in hair extensions are visible if not installed correctly
Be careful, if you install your clip in extensions incorrectly, your extensions will become visible. Don't worry, as this is not normal and can easily be rectified. YouTube is filled with great videos showing you how to install clip in extensions the correct way. You can also check out our YouTube videos or blog articles where we explain to you how to install clip in extensions correctly so that the result looks natural and discreet. Feel free to send us an email, we love hearing from you and we'll be more than happy to help you out.
Clip in extensions are not suitable if you have serious hair loss issues
Notice we are saying serious hair loss issues. In other words, you can wear clip in hair extensions if you have thin hair. But if your hair is too thin because you are suffering from a hair loss condition, such as alopecia, we do not recommend you wear extensions unless you have consulted with your doctor. While clip ins do not cause any damage to your hair, alopecia is a special case that does not react well to the additional weight of clip ins.

Synthetic hair is cheaper than remy human hair in both quality and hair extensions prices. Synthetic clip in extensions are very affordable and the best extensions for someone who doesn't want to spend too much money on extensions. Give the synthetic clip in extensions a try and see for yourself if this is something you like wearing. If you do, we suggest you go for the remy human hair clip in extensions on your next order since they are considerably better and can be heat styled.
Although #clip in #hair #extensions have many pros, such as being easy to install & comfortable, keep in mind there are also a few cons: you need to remove them everyday & the extensions can be visible if installed incorrectly.

— Canada Hair (@CanadaHair) 2018. február 1.
Pros and Cons of Clip in Hair Extensions
We hope you enjoyed our article about the pros and cons of clip-in hair extensions. Did you know that we are a Canadian hair extensions company that provides high-quality extensions at affordable hair extensions costs? We have thousands of satisfied customers across Canada because shipping is quick, traceable online 24/7, and we have a hassle-free return policy.
Furthermore, we offer hair samples so that you can try each type of hair extensions at a fraction of the price and be comfortable making the right decision for your hair type.
We also have a free color match service! To find the right color on Canada Hair, here are your options:
Get 2 free color swatches by mail
Order samples (include gift card!)
Order our full color ring (includes gift card!)
Send us a selfie for our personal recommendations!