Hollywood celebrities such as the Kardashian sisters, Cardi B, Jennifer Lopez, and Beyoncé all wear lace front wig since this type of wig is the most natural looking one!  
Hair stylists describe this hairpiece as easy to install and also versatile in style.
It also looks natural, so many people will believe it's your real hair and not a wig that you are wearing.
These wigs have been used in the film industry for more than a decade.
However, it suddenly emerged as a fashion trend even for ordinary women.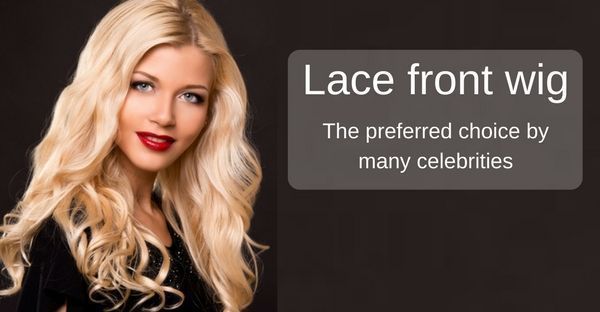 Lace front wigs look natural
A lace front wig looks natural.
It gives the appearance of a genuine hairline and flattens the edge between the wig and your skin.
Lace front wig offers a remedy for individuals suffering from hair loss issues.
One of the most important advantages of wearing a lace front wig is that it looks really natural and will conceal any hair loss issue you may suffer from.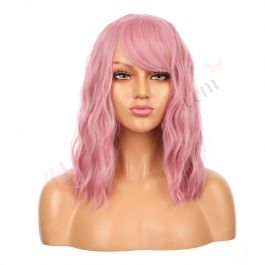 It's also a great way of changing your hairstyle in a safe and discreet way.
Contrary to other wigs types, this one really stands out as the most natural looking one because it creates an illusion that your hair is growing naturally and directly from the scalp.
It creates a natural look and this is why many women and celebrities prefer to buy a lace front wig.
One of the most important advantage of wearing a #lace #front #wig is that it looks really natural.

— Canada Hair (@CanadaHair) 2018. február 16.
Lace front wigs are durable
The durability of lace front wigs depends on the material used.
Synthetic lace front wigs normally last for a few months if cared for properly. On the other hand, human hair lace front wig last longer (depending on maintenance).
 Lace wigs made with virgin human hair, which is probably the best hair quality in the market, can last for many years depending on the maintenance.
Prices vary but the synthetic ones are inexpensive compared to the other hair categories.
If you never had a wig before, we strongly suggest you start with a synthetic wig.
Synthetic lace front wigs may even be better than other wigs because of their affordability.
No need for you to commit to one specific hairstyle and to spend more on a human hair wig or a virgin hair wig.
Nowadays, synthetic hair looks realistic and people may actually be fooled into believing it's your real hair.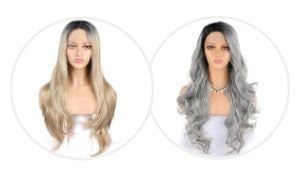 Installing lace front wigs
In order to install a lace front wig, there are a few things to keep in mind.
The flatter your hair lays under your wig, the better the lace front wig will look.
It's easier with shorter hair since you can simply wrap it with a wig cap or brush the hair away from your face and pin in place with the help of some hairspray.
If you have longer hair, tie your hair into two French braids tight against the scalp and cross them over just above the nape of your neck, secure them at the top and bottom with clips.
You can also wear a wig cap to gather all your hair, it's like a tight beanie that will hold all your hair in place.
Apply an adhesive only after securing your hair.
Use the correct adhesive or paste, only use the glue on the wig cap and never put glue directly on your hair.
Look for the glue specifically made for securing lace fronts and prevent them from moving.
Perform patch testing to make sure you have no allergic reaction to the bonding agent.
Wear the wig only after the test.
You need waterproof glue if you plan to swim with the wig on.
Some women use skin protectors to act as wall between the paste and skin. Others attach double-sided removable tape if the wig will be worn only for several days.
For those who choose the non-adhesive paste, test on your skin first just like the adhesive model. Allow it to stand for 20 minutes and determine your skin's reaction.
Last but not least, do not forget about your natural hair.
You may forget to shampoo and conditioner if you wear the hairpiece only for one week.
However, longer wear calls for regular care so the wig does not get damaged.
Dry your hair after washing your hair since damp hair and scalp under the wig can cause skin issues.
Most of our customers prefer to simply wear the wig as is. This means you will have to remove the wig every day before sleeping, but at least you avoid going through complicated steps to have the wig installed and permanently fixed on you 24/7.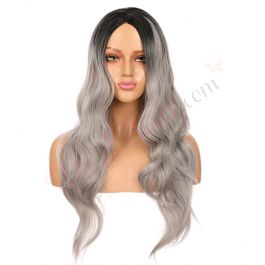 Where to buy a lace front wig?
If you are looking for a reliable place to buy quality wigs in Canada, look no further! CanadaHair.ca is a reliable hair extension and wig store that offers quality products at affordable prices.
We began as a national distributor of hair extensions, wigs, ponytail extensions and hairpieces.
We launched our online store so that you can get quality products at low prices without having to leave the comfort of your home!