You've been with the love of your life for quite some time now and he finally proposes. You guys want your wedding within a month or so, but uh-oh, you just chopped off your hair to get a short haircut a month ago and it still hasn't grown back!
What do you do now?
You don't want to get married while you have short hair because you want to be able to curl and style your hair.
Well, lucky for you, there's a solution to this problem! You guessed it right, the solution is to use hair extensions!
We admit, planning a wedding can be pretty stressful and if you're unhappy with the way your hair looks, it only adds to your stress. We know that you want your wedding day to be perfect!
From deciding the venue of the wedding to deciding what jewelry you're going to wear, planning a wedding is one of the most difficult tasks ever. There's so much to do in such a less time and with such a small margin of error!
You don't want to get anything wrong – the cake, the venue, the dress, and above everything, the way you look!
If you're stressing about how you're going to add volume and length to your hair so that you can look flawless on your wedding day, worry no more because WE have an overnight solution for all the hair problems that you might be having.
All you have to do is invest in the right hair extensions!
Hair extensions will enable you to pick out any hairstyle you want – you can even choose the hair color you want!
Get flawlessly beautiful hair on the most important day of your life with hair extensions, which can literally be applied in a few minutes. This is a great solution to all the hair problems of those who are having an impromptu wedding!
Worrying about your hair shouldn't be one of your problems as your wedding date is nearing up. Leave that to us because we're here to show you how you can get a flawless hairstyle on your wedding day!
Why Should You Wear Hair Extensions on Your Wedding Day?
Hair extensions do a lot more than just adding volume and length to your hair. Although adding volume and length are the primary reasons to get hair extensions on your wedding day, there could be a number of other reasons too.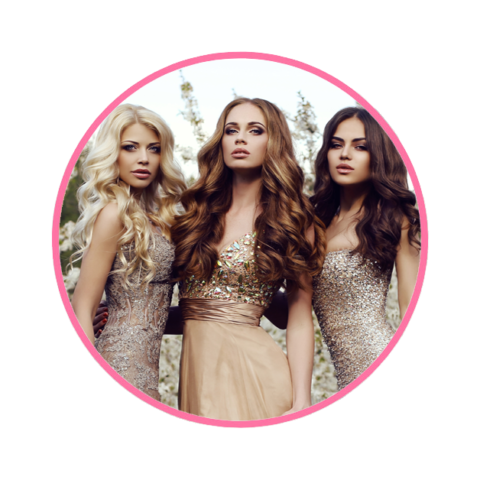 Have you ever wanted to explore a different color but you're worried that the color might not turn out as you expected if you try it near your wedding day? Are you too afraid to take the risk of coloring your hair to get the color you want when your wedding date is just around the corner?
Well, in this case, getting hair extensions is the right thing to do.
With hair extensions, you can choose any color that you like, and you can even put the hair extensions on your hair to see how the color looks on you!
Since hair extensions are pre-colored, you don't need to worry about how the color will surface or what it will look like. It's just there right in front of you, and you can choose whichever color you like. You can even try the extensions on with your wedding dress to see if the color suits you and goes with your wedding dress.
Moreover, getting hair extensions opens you up to numerous hairstyle options that you couldn't even think of having earlier. Since hair extensions add length and volume to your hair, you can use both these factors to get any hairstyle that you want out there, as long as you're going to a reliable and experienced hairdresser!
Have you ever dream of getting that perfect hairstyle but your hair was either too short or too thin for it? Well, now is your chance to get the hairstyle of your dreams on your wedding day by using hair extensions!
Getting your natural hair styled on your wedding day can also damage the hair pretty extensively. This is because wedding hairstyles don't just require some harmless hair gel. When you go for a wedding hairstyle, your hair is usually exposed to a lot of heat in the straightening and curling process, as a result of which it gets easily damaged.
Moreover, back-combing and spraying hairspray on your hair can also damage it to some extent. Not only this but the use of sharp and strong clips and pins can also damage your hair.
To avoid this damage during your wedding days, you can get hair extensions installed. This way, you can get the hairstyle you want without having to worry about all the damage that styling could do to your natural hair.
Hair extensions basically protect your hair from getting harmed this way by sacrificing their own lives. Sounds dramatic, doesn't it?
Don't you want to prevent damage to your hair so that you can try out stunning and gorgeous hairstyles on your honeymoon as well? The best way to prevent hair damage while still having a gorgeous hairstyle on your wedding day is to use hair extensions.
Another reason for using hair extensions is that as the market of hair extensions is becoming more and more competitive, the quality of hair extensions is increasing while their price is going down. Go back a few years and you would only get hair extensions for twice the cost you can get them now!
Excessive competition in the market has led to decreased rates which means you can get these hair extensions for a pretty reasonable hair extensions prices now. However, the installation charges are still pretty high, but then even if you get a normal "wedding" hairstyle, you'll have to pay a lot because when the hairdresser gets even a hint of a wedding, their prices usually go up!
Not talking about all hairdressers though, please don't get offended because everyone's different. I'm just talking about a general trend with no offense to anyone!
Not only this but if you're using permanent hair extensions, they'll also last you a pretty long time. This means that all the money you spend on hair extensions and the subsequent installation charges will pay off because you'll get to keep your hair extensions for a long, long time! I'm talking about months here.
If you haven't ever tried getting hair extensions earlier in your life, your wedding could be a chance for you to try something new.
Who knows, you might just find your next big passion in the form of hair extensions? Usually, a lot of women hesitate to spend so much on their hair.
However, a wedding gives you a guilt-free ticket to spending money on yourself so why not try getting hair extensions now instead of regretting not getting them a few years down the line when you're looking at your wedding albums wishing you had fuller and longer hair in the pictures?
These are just a few of the many reasons to get hair extensions for your wedding! Getting hair extensions for your wedding is a great idea and more and more brides are beginning to accept this idea because it's making their lives a lot easier and a lot less stressful!
Which hair extensions are the best for a wedding?
There are many different types of hair extensions out there, ranging from the more temporary clip in hair extensions to the more permanent type of tape-in hair extensions. There's literally a lot to choose from, depending on what you really want from the extensions and how long you want them to be in your hair!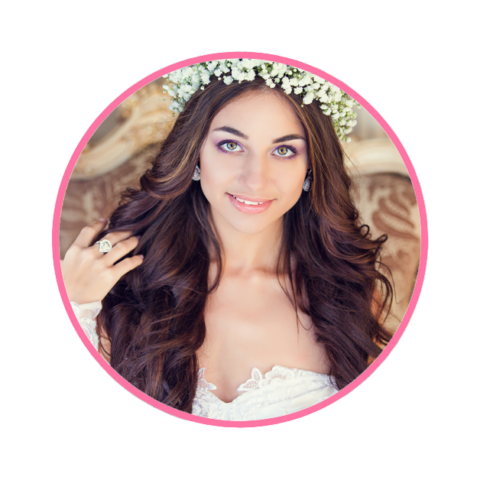 Generally speaking, two types of hair extensions are the most popular, the clip-in hair extensions and the tape-in hair extensions. A detailed discussion of each of these types is given below, with the pros and cons of each. Read carefully to select the extensions that will suit you the best!
Clip-in Hair Extensions
Clip-in hair extensions are temporary hair extensions that you just need to clip-in! These are one of the most popular hair extensions out there owing to their ease of application and comfort level.
Once you're done with the event, you can remove these hair extensions and then you can use them again the next time you need them.
The fact that they're temporary can be pretty convenient because you might not want them wherever you go for your honeymoon.
Hair extensions don't do well while you're swimming so if you're going to a beach city in your honeymoon and you plan on taking a few dips too.
These extensions might be the best for you because you can take them off before going in the water and then reapply them whenever you want to.
In addition, installing these clip in hair extensions doesn't require specific expertise or knowledge. In fact, the installation process is pretty easy and you can even do it at home – it doesn't require you to go to a hairdresser.
A major disadvantage of clip-in hair extensions is that you need to make sure that you take them off before going to bed every night and even before stepping in the shower or the swimming pool.
This is because sleeping with them or exposing them to too much water can damage them, making them useless. It might be inconvenient to take out your hair extensions every time you need to shower and reapply them after you're done.
Still, if you're up for the effort, then these are the best extensions to get because they're pretty comfortable and installing them is a matter of minutes! Other hair extensions like the sew-in hair extensions can take hours to install.
Moreover, clip-in hair extensions cannot really be molded or experiment with to give different hair densities. This is because you can't cut the clips in half!
You have to use the size of the weft that comes with the clips.
Tape-in Hair Extensions
Tape-in hair extensions are semi-permanent hair extensions. This means that once you get them installed, they can last you about 4-12 weeks before you need to replace or remove them.
You should go for tape-in hair extensions if you're extremely sure of the hair length and hair color you want because these cannot be removed the very next day. However, this can also be a plus-point because they can last your honeymoon phase and you can style them even while you're on your honeymoon and get amazing pictures!
Tape-in hair extensions generally give a more natural look because the adhesive tapes on their surface are transparent or camouflaged so they're not easily visible. This means no one will be able to tell that you've had hair extensions installed.
What I mean is that tape-in hair extensions give a pretty natural and soft look!
Moreover, they can be installed within no time! It barely takes an hour for an experienced hairdresser to install tape-in hair extensions in your entire hair. We recommend that you get these installed by a professional hairdresser because they can slip away if they're not installed properly. You don't want your hair extensions coming out on your wedding day, do you?
Be sure to get them installed by a professional certified in installing tape-in hair extensions. incorrect installation can lead to many devastating outcomes in tape-in hair extensions.
Tape-in hair extensions are also pretty comfortable because the tapes don't pull on your hair too tightly. If you're worried about becoming uncomfortable, then you should try these hair extensions. You'll feel and look natural. You might even forget that you're wearing hair extensions at all!
A major advantage while using tape-in hair extensions is that you can get as creative as you want to give different results. The wefts of the tape-in hair extensions can easily be cut to give smaller sections and the smaller sections can be used to give your hair your desired density!
With tape-in hair extensions, you can also mix and match different color combinations to get the results that you want.
The advantages of tape-in hair extensions don't end here! If the tape of your tape-in hair extensions gets damaged, you don't have to throw them away. You can just replace the tape and re-install the extensions! This saves a lot of money because you don't have to throw the extensions away and you can re-install them easily!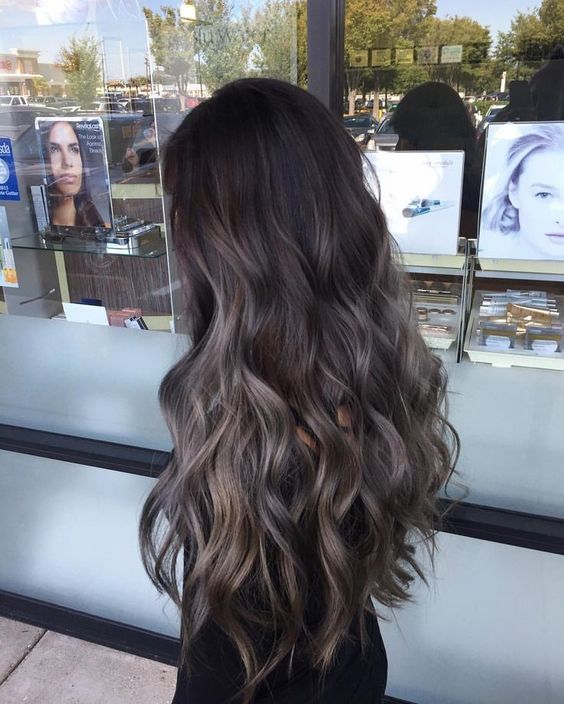 However, where tape-in hair extensions have a long list of advantages, they have a few disadvantages too.
Tape-in hair extensions are of the semi-permanent type, which means if you regret getting hair extensions, there's really almost nothing you can do about it anytime soon. It's a commitment that you have to make.
Tape-in hair extensions can be a nightmare for you if they're not installed properly. They can start falling out or slipping away early and this can cause you a great deal of trouble and embarrassment!
Moreover, tape-in hair extensions have a greater potential to damage your hair because the tape literally sticks onto your hair so chances of it damaging your hair are higher than with the other alternative of clip-in hair extensions.
Removing tape-in hair extensions isn't just as easy as pulling out the tapes. Instead, you have to use a special remover to ensure that the extensions can be removed safely.
Ideally, tape-in hair extensions shouldn't be installed at home and doing so can ruin the entire purpose of getting tape-in hair extensions because they slip away if they aren't applied properly. You'll probably have to go to the parlor every time you want to get your tape replaced!
Hairstyles for the Wedding Day
Can't decide what hairstyle to go for with hair extensions? Check out the options below!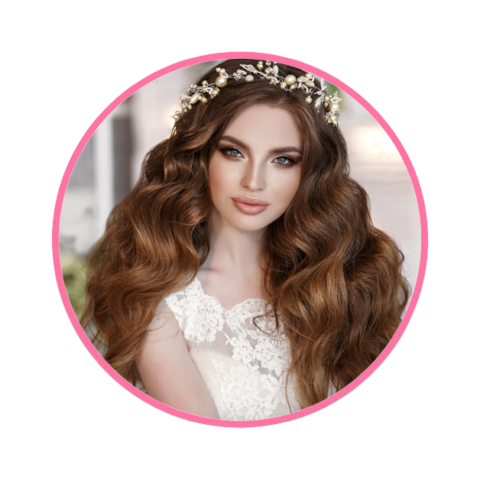 Beach waves: This hairstyle looks absolutely stunning and gorgeous! It's a great hairstyle for a wedding ceremony!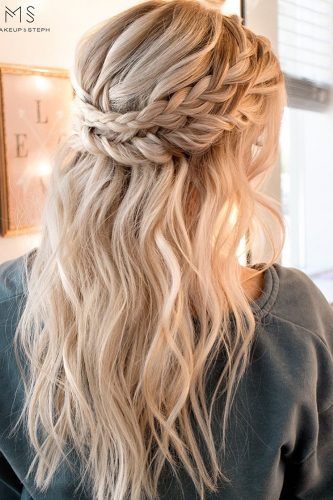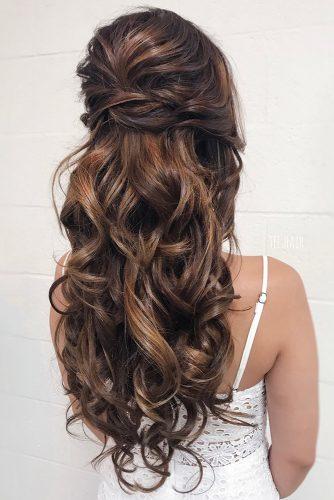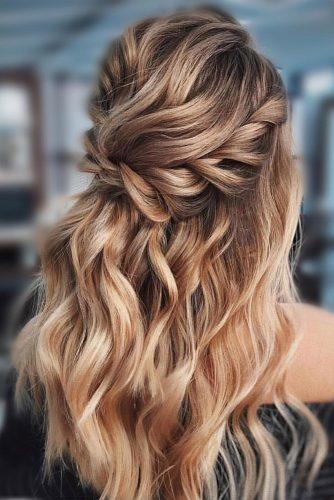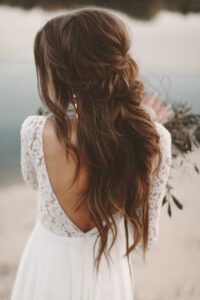 Add some flowers

: Flowers add a delicate and beautiful look to your hair!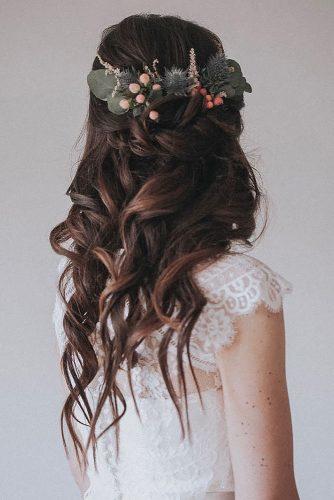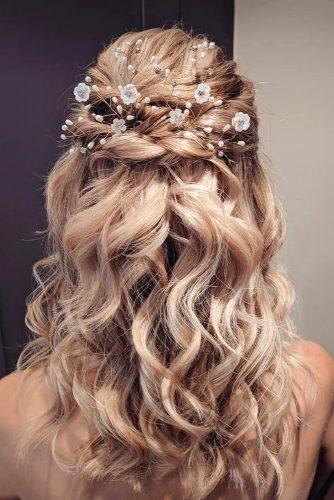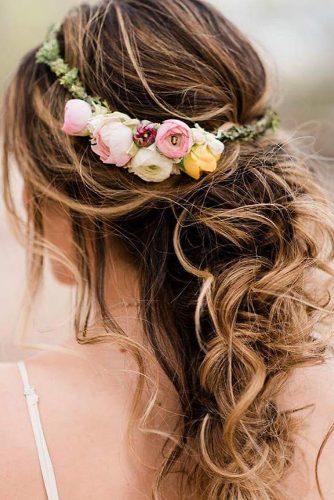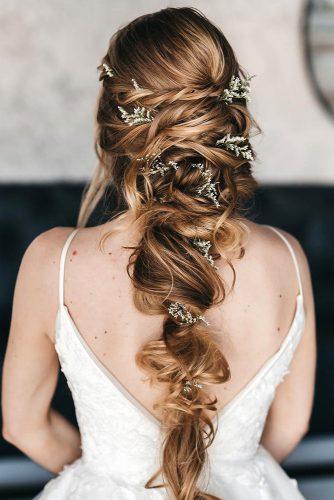 The Simple Look: If you want to keep it simple, this is the hairstyle you should go for!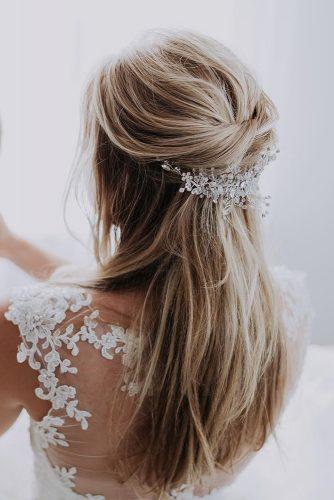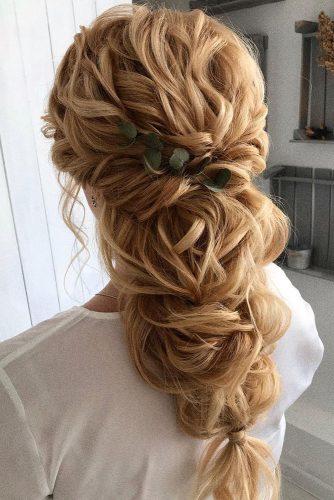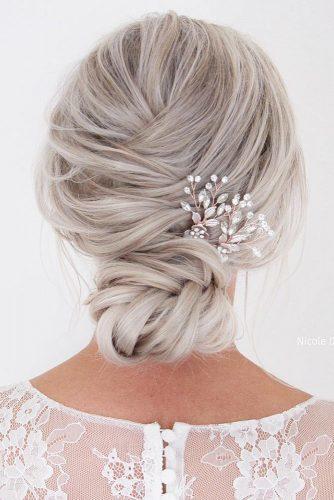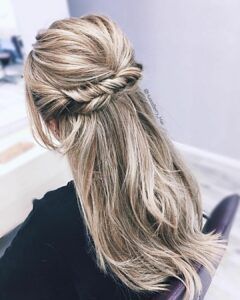 How to Take Care of Your Wedding Hair Extensions
The better care you take of your hair extensions, the longer they'll last. This is a universal truth that no one can argue against!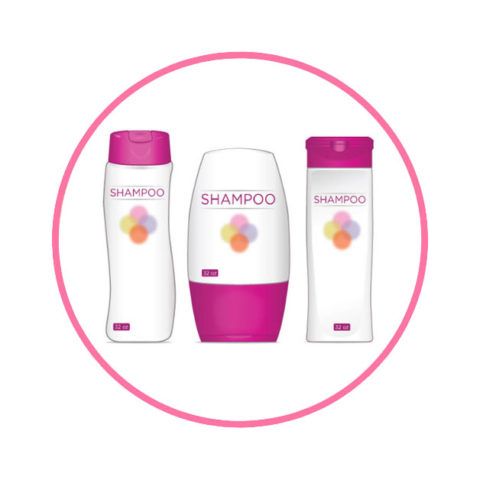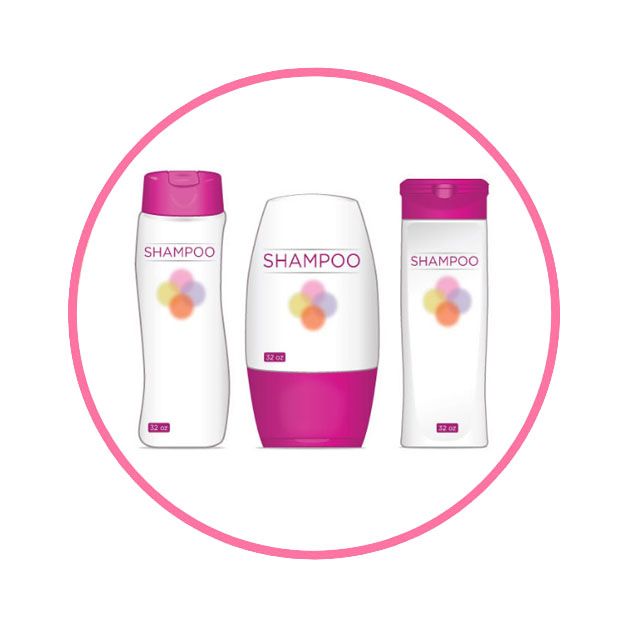 You've invested a lot in your wedding hair extensions, now it's a good idea to take care of them properly so that they last long. Here are a few tips on how to take care of wedding hair extensions:
Brush your hair extensions every day if you're wearing them every day. If you don't brush your hair extensions every day, they can get tangled up pretty quickly. These tangles can then damage the hair extensions when they're accidentally pulled. It's better to prevent the tangles from forming or growing by brushing your hair extensions every day!

Don't use too many products

on your hair extensions! Using conditioners and different products near the roots of the extensions can harm them to a great extent, especially if you're using tape-in hair extensions because the chemicals can damage the adhesive parts of the tapes, causing the tape to slip away.

Wash your extensions regularly! 

You should wash your extensions at least every other day. This will prevent excess oil and build-up from damaging your hair extensions. Oil can weaken the bond between your hair extensions and your natural hair, making the hair extensions slip out.

Avoid using the swimming pool

with your hair extensions installed! If you have clip-in hair extensions, you can simply remove them before setting foot into the pool. However, if you have tape-in hair extensions, you can wear a shower cap or any other swimming cap that prevents your hair from getting wet.

Avoid using excessive heat

on your hair extensions. Excessive heat can damage hair extensions pretty easily, causing the hair to become brittle and dry. Just like you should avoid using excessive heat on your natural hair, you should avoid using it on your hair extensions too so that your hair extensions can remain healthy, soft and moisturized.

These are just a few of the ways in which you can take care of your hair extensions. Make sure you follow these tips so that your hair extensions can last long!
How Much Do Hair Extensions Cost?
How much do hair extensions cost? There really isn't any fixed price for hair extensions, which is why I can only give you a rough estimate. The actual price differs from brand to brand!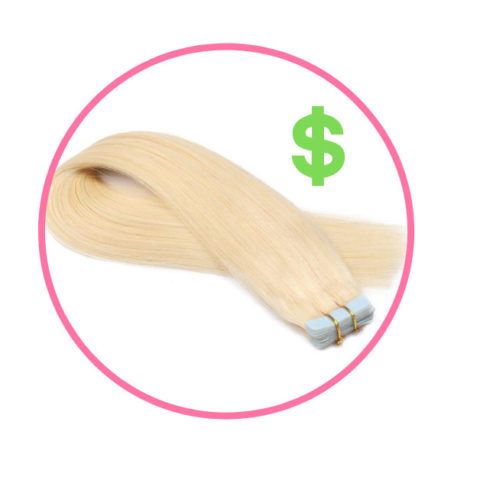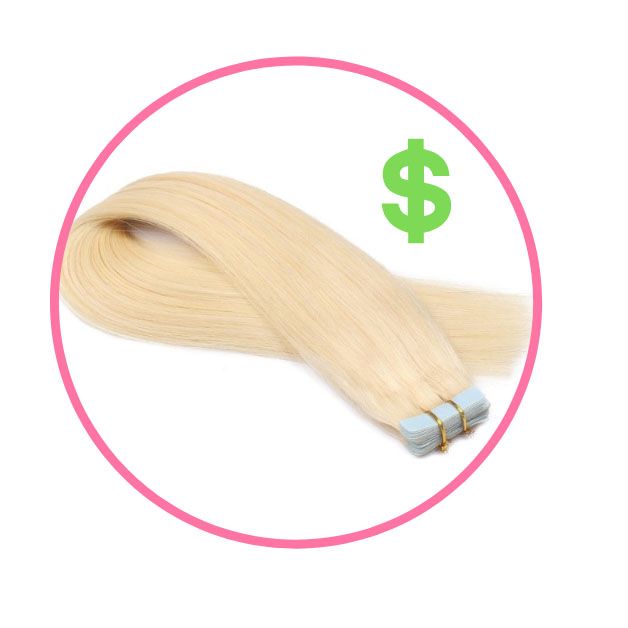 Clip-ins can usually cost you anywhere from $75 to about $300, depending on the quality of hair extensions you purchase as well as any shipping rates. Usually, hairdressers don't charge you for installing clip-in hair extensions and even if they do, the amount charged will be pretty small so you don't have to worry about that.
However, if you're talking about semi-permanent hair extensions like tape-in hair extensions, the installation charges range from $100 to $500, depending on the hairdresser and salon you choose. Of course, a high-end salon will charge you a lot more!
Therefore, the total cost of getting tape-in hair extensions ranges from about $150 to $800!
Salons might offer you discounts if you're also going for other hair services like cutting and dyeing your hair so this is just a rough estimate to give you an idea!
So, what are you waiting for? Choose your hair extensions today and be prepared to look absolutely stunning on your wedding day! Don't worry about the cost of hair extensions and spend some money on yourself to look pretty on the biggest day of your life!