Clip in hair extensions is the gateway drug of choice for many, leading you into an amazing fantasy world of hair extensions. Now, with other addictions, you may have concerns about side-effects but with clip in extensions that only effects are great hair, a boost in confidence and absolutely living your best life.
If you are new to this world, it can be overwhelming, confusing and scary not knowing who to trust with all of the info about clip in hair extensions but worry not!
We are your fairy godmother, willing to walk you through the process of
buying

keeping

caring for your clip in extensions
and wearing them like the boss babes you are.
At Canada Hair, we are all about the hair, well it is in our name and we want to make sure that you guys not only purchase the best products but have a complete understanding of how to wear different extensions and any other questions that may be on your mind.
If you aren't already, we are sure that by the end of the blog you will be a hair extension pro and will be ready to purchase your first set of clip in hair extensions.
What are Clip-in Hair Extensions?
Clip-in hair extensions are a magical product, that once applied to your hair will seriously up your viva and make you completely irresistible to the opposite sex and a style icon to your peers.
By just adding a few tracks you can completely transform your look in minutes, giving your hair a serious volume boost and make it look like you sped up the growth cycle making you a 10/10.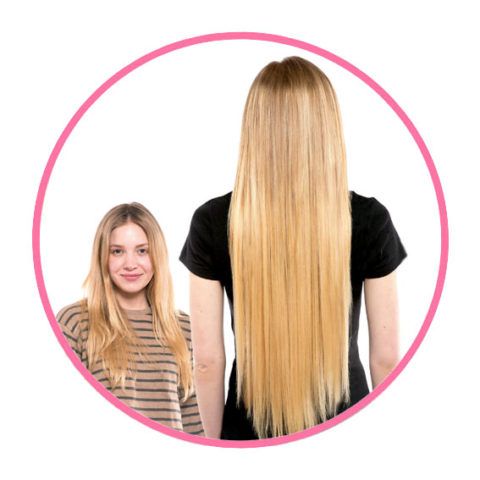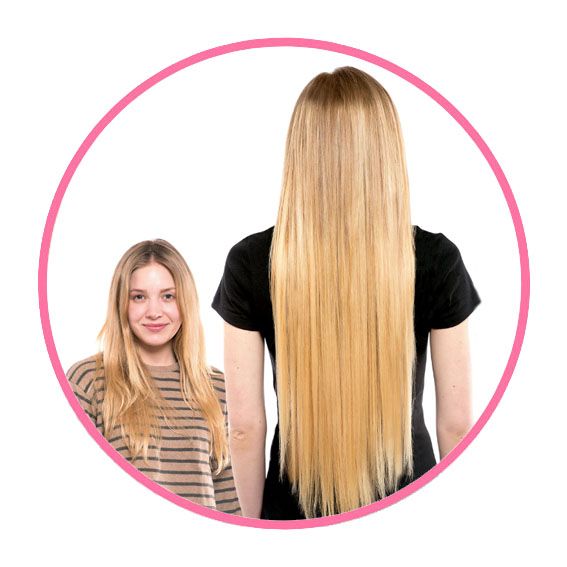 Clip-in extensions are varying lengths of hair secured to a weft and attached to a metal or plastic clip that can be easily placed on to the natural hair for a temporary elongated look.
They are available in a range of colors, textures, and lengths that are suitable for all types of hair except for those with severe hair loss, damaged strands or very short hair (under three inches long).
Clip in extensions are very safe to use and can even be used on young teens for very special occasions and one of use. You can wear clip ins as regularly as you like, from once in a while to everyday use.
How much are clip-in hair extensions?
With the rise in popularity of clip in extensions, you can now find them anywhere from a local beauty supply store, High Street clothes retailers and even the dollar store. This means that there is a wide variety in the price but also that is reflected in the quality of the clip in extensions you can purchase.
It's not a simple case of 'the more expensive the better' as some stores will have a high mark up on a very cheap product so you should consider all of the options before making a purchase, not just the cost.
A good set of high-quality clip in extensions can range from (Insert your prices).
Where you make a purchase from is just as important as the type of hair that you buy. You want to make sure the retailer has a good track record when it comes to hair extensions.
They should be able to tell you
The origin of the hair

If it is real human hair
And what processes it has undergone before reaching the consumer.
Make sure that if you are buying synthetic hair, it is at least heat resistant and has not been treated with any harsh chemicals that may leave a residue or irritate the scalp during use.
If you are buying it from a physical store, make sure you touch and feel the hair to check the quality beforehand. It should not look too shiny or fake or easily shed if you run your fingers through it although some shed hair is expected.
When buying human hair, find out if the hair has been colored or texturized as sometimes when you get home and wash or style the hair, it may change texture and not be as beautiful as when you first saw. It is also a good idea to ask if there any specific care instructions to take of your new extensions.
Another thing to look out for is a returns policy, most shops will not return human hair if it has been altered in any way. Here at Canada Hair, no matter the product, we offer a no quibble money back guarantee.
What should I look for when getting clip-ins?
As with all types of products that there are many varieties of hair extension and clip-ins available on the market which make it very difficult for novices to make a choice on the correct type to purchase. To help you make the right decision, below are a few points to consider when you decide to buy a new set of clip in extensions. This list is not exhaustive but will ensure that the product you buy will have all the characteristics needed to make great hairstyle.
The biggest choice when making a purchase of clip in hair extensions is to buy human hair or synthetic hair. Sometimes this decision will be made for you by the amount you have to spend and how long you want them to last but in general, they both have their pros and cons.
Synthetic clip in hair extensions.
Pros
Synthetic hair is usually made from man-made fiber which means that the components can be cheaply made which reduces the final hair extensions cost.
The most common material used for clip in hair extension is a plastic called  Kanekalon or Kanekalon. Both of these materials can be customized to any color or texture which saves on the process of coloring human hair which can be lengthy, time-consuming and increases the risk of damage to the delicate hair strands.
As mentioned above, because the synthetic hair can be easily colored, it means that is available in a wider range compared to human hair. This is why when you enter fancy dress shop to buy a wig online for Halloween, you can get it in any color of the rainbow that you can imagine.
The downside is that once the color is applied, it cannot be changed unlike with human hair where you could bleach or remove the color and add your required shade. Because so many colors available and often the unit price is much lower, it is possible that you can buy several sets of synthetic hair clip ins to match your mood.
Due to the fact that synthetic hair is artificial, it is treated to make it look like natural human hair that can be shaped into the majority of hair textures, ranging from straight all the way up to the tightest curl.
Synthetic hair clip in extensions do not require frequent washing or products to make it look or feel natural. Where you could spend most of your budget on buying fancy shampoos and serums and oil to keep your hair in tiptop shape, you do not need to do that for synthetic hair. All you will need to do is semi-regularly rinse the hair but at longer intervals than you would your normal hair.
Cons
Once a certain style or texture has been created by the manufacturers, that is it! There is no going backward or forwards or changing easily, so if you buy straight hair and you want a change, this can be more than a difficult task as it is not recommended that use heat on the hair in any way shape or form because synthetic hair could melt.
It is possible to do a wet set where you can braid or wrap the hair in rollers to get some kind of texture however it doesn't usually hold very well or for very long.
Previously, when hair extensions were new on the market, it was very easy to tell what was human hair and what was synthetic. Synthetic hair often felt and looked very plasticky and shiny nowadays it takes a very well-trained eye to be able to tell the difference between synthetic hair and human hair from far away however if you have any experience with human hair extensions or clip ins you will be able to feel and notice the difference especially after you've had them for a while. Synthetic hair tends to fray and gets frizzy after a long time which is not that easy to smooth.
If your budget allows for human hair then we suggest you go for Indian Remy clip in extensions as they provide the best quality and feel, plus are very long-lasting for the price range.
To be completely objective we have listed the pros and cons of human hair extensions so that you can make a choice based on the facts although human hair extensions do look and feel great.
Pros
Marilyn Monroe said 'the woman that changes her hair is about to change her life' and so who wants to be stuck with one style?
When making a purchase of Canada Hair human extensions, you are able to change the style of your hair as much as you change your socks.
You can go from curly to straight and straight to curly whenever you feel like it.
Even though you can use heat on human hair, we always suggest using a heat protectant and not doing it too often. In fact, don't let any heated tool go over 250°C to make sure that your hair is in the best condition and isn't at risk of heat damage.
So if you want a sleek ponytail for work then classic vintage waves for an evening cocktail party, human hair clip ins are the right selection for you.
Imitation is the best form of flattery but nothing beats the real thing in terms of look and feel. You can't get better than the human hair, there is no need to prep or manipulate the hair to make it seem natural, it just is.
Always confirm that the vendor you buy from is selling you 100% quality human hair as some places will try and mix in synthetic hair to add bulk and cheapen the products. You can always tell if the hair is not 100% human as there will be several fibers that stand out in the weft and also when you run your fingers through it you find it tangles very easily. Plus if you make the mistake of using any heat on it, half of the hair will be damaged before you even get a chance to wear it out.
Yes, it's true that synthetic hair is lower maintenance and requires you to care for less than you would human hair, however with the right maintenance, a set of human hair clip ins can Iast you several years, whereas synthetic hair often loses its style and shape after a few months of continuous use.
One of the beauties of human hair clip ins is that even when they start to look a little bit on the wildside, there are many things you can do to revive them and bring them back to life. For example, if they start to frayed you can always trim the ends as split ends are never cool.
If the hair starts to look dull or damaged from sunlight, pollution or just general wear and tear, then you can do a deep conditioning treatment to add in much-needed moisture and smooth the cuticles of the hair for gloss and shine.
When the seasons change so should your hair color and who wants to spend money on a product that they can't upcycle and customize when the weather gets warmer or cooler?
If you buy 100% human hair extensions then you are able to change the color from its original with the help of a qualified professional.  We say this because coloring hair is a very technical process that requires a high level of expertise and can easily go wrong. Just type in 'hair color fail' into YouTube and you can see just how bad it can get, so we wouldn't want you to damage your brand new hair extensions because you wanted them brighter, remember, box dyes are really for suckers.
If you plan on coloring your hair extensions it is best to purchase the lightest color available as this will give you more choice of the final color as you won't have to bleach the hair as much beforehand.
Always check with the vendor and your stylist, that the color you want is achievable first because sometimes it may not be possible to go as far as you want without doing serious harm to the hair.
You have to remember when using human hair that it is fragile and will behaviour just like your own, so while it's easier to get a color without doing damage your natural hair it still may not be the best idea to do it at all.
Cons
Compared to some synthetic hair, a human hair is more expensive that's just a matter of fact. However, for the money you spend, you really do get much more out of the hair and so you can see the extra cost of paying for extra benefits. Just like an upgrade is in a car you wouldn't want to buy the standard model, you want to have air-conditioning, surround sound and alloy wheels.
If it's your first time getting hair extensions or clip-ins, then you may want to go for a cheaper option and that it is perfectly fine, be that as it may, once you get used to them you will definitely want to upgrade and probably will never go back.
As you are very aware, a human hair is prone to damage from the elements, pollution, harsh chemicals and heat, so it means that over time your extensions can gradually get split ends will become dull or dry looking. This process is normal and can be avoided or slow down by using high-quality products, avoiding heat or using a heat protectant every time you use such tools.
If any point you start to notice that your clip ins are getting damaged the best thing to do is to take a break from styling or wearing them and do some DIY maintenance. This could be in the form of a deep conditioning treatment or trimming the ends.
So even though this damage will occur over time you will still get a lot of use out of your clip in extensions and most people can make their extensions last for up to 2 years if not longer when they looked after correctly. This does strongly depend on the initial quality of the hair, which is why we always suggest Indian Remy for human hair clip in extensions.
Human hair has to come from real people and a hair donation differs from person-to-person as you would expect so that means there will be slight changes and variation in color or texture in different batches. To make the differences minimal, some companies will treat the hair before is given to you, this is called Remy hair. Usually, hair is processed, firstly to remove any dirt and debris and make sure it is very hygienic. It can also be colored or textured to give all the stock a homogeneous look. If you purchase virgin extensions they would've not been treated in any way and therefore you're more likely to see differences when you make separate purchases.
Human hair clip in extensions are like having another set of hair and you have to treat them just as good if not better than you treat your own. Your care routine should include regular washing and conditioning to help in maintaining the integrity of the hair, also using high-quality products such as serums and oils. For some people, this is fine as they just as they just care for the clip in extensions and work on them at the same time as they would their own hair, so it's not an extra burden. For others, this can be too much work and they may prefer synthetic hair extensions which don't require regular care or extra products to look after the hair. You can read more about this here. 
Depending on the style that you have in mind you may need your clip in extensions to match exactly to your own hair. This is really easy to do if your hair is a natural color and falls within the standard range of the 1 to 10 colors which range from one (darkest black) to ten (lightest blonde). Each vendor should provide you with a color chart or pictures so that you can pick out the best extensions to suit your hair.  
Picking the right colors is easy however there are different shades that make up all the wonderful variations of hair colors.
For example, if your hair is a medium brown it would be easy to pick out the color five for your hair extensions, however, you may have a different undertone or reflect which makes your hair look a slightly different shade to other people with the same color hair. You may have golden or yellow undertones or orange undertones that make your hair look more red and this is where it can become a little bit more difficult to match your hair extensions to your natural hair color.
Some places will have the main color as a number and one side, then a letter or decimal place after the main color, for example, 5G or 5.3. In both of these cases, the main color is brown and the shade or undertone is gold or yellow.
Each company may have a slightly different method so it's best to ask them beforehand so that you don't end up making a mistake and buying the wrong color as often it is difficult to return hair extensions.
That is what makes Canada Hair unique, we have a completely safe and hassle-free return system that allows you to return your hair extensions if there any reason, even if you got the color wrong, at no expense to you. In fact, if you're really stuck and can't find the perfect color in our hair extensions, you can just send us an email and we will walk you through the process.

When purchasing hair extensions, the temptation is so high to buy the longest hair possible. I mean who doesn't want Nicki Minaj floor length hair that the sweep behind you like a cloak? Although this sounds like a dream come true, in practicality it's actually very difficult to look after and maintain.
When choosing the length of your hair extensions you must consider your lifestyle and how much impact long hair will have on you. We usually suggest going no longer than 6 to 12 inches then your natural hair for your first set of extensions however if your hair is very short, then you could possibly go a little bit longer.
As you would expect the price increases dramatically the longer you go. With synthetic hai,r this isn't too much of a big deal as the hair is created artificially so it isn't difficult to extend the hair to whatever lengths people want.
If you are making a purchase of human hair clip in extensions, the longer hairs are very, very expensive because you have to find someone with this length of hair in the first place.
It goes without saying that your hair extensions should be longer than your human hair because if it stopped shorter it would look really weird. Also remember that the hair tapers and so it will give you a more natural look because even though the clippings will be the same length, you have to take into account the length of your head as well. So it will look longer at the bottom pieces but then shorter when you place the final clips higher on your hair to give you a layered look.
How do I match my hair color to my extensions?
We talked briefly about how to choose the right color and shade of extension if you're natural hair is uncolored and now we will explain the process of selecting the best color if you have had a color service done to your own hair such as highlights or balayage.
When some people choose to wear clip-in extensions, they want it as a highlight that is completely different to the shade of their own hair, for a special pop of color. This is easy as you just select the color you want. Whether your hair is dark or light, having a rainbow or unicorn color can make your hair-style more exciting and is cheaper and safer than coloring your own hair.
If you want a bright and exciting colour, then synthetic clip in extensions may be the best option as they are available in a wider range however if you feel like you would want to change the texture often, by adding curls or straightening to match whatever style you choose, using human hair extensions would be better.
If your hair is highlighted, matching clip in extensions becomes a bit of a harder exercise. In general you may not be able to get the best color by selecting what is available on the stores page or in a local shop, so you may need to contact them directly to see if they offer a colour matching service or ask your hairstylist who colored your hair, if they can also color your hair extensions for you to get the perfect blend. If they are willing to do so, then it's best to purchase either the lightest color available possibly being a 10 or extensions that match your base color and then they can add the highlights to the extensions easily.
Balayage has been the color sensation of this decade and it's where the hair goes from dark to light, like an ombre. If this is the situation with your hair, then what you want to do is match your hair extensions to the lightest part of your hair which often be closer to the bottom. Select the hair extensions using the lowest 5 to 6 inches of your hair, this way when you have the clip in extensions installed, your dark hair will cover it and they will blend into the light part of your hair making your making ombre even longer but just as beautiful.
How To Put in Clip-in Hair Extensions?
Clip in extensions are our favorite type of temporary hair extension because they are so easy to use and user-friendly that anyone can put them in and you don't need to go to the stylist to spend any extra of your hard earned cash to get them installed. You can do it all at home by yourself with a few simple tools.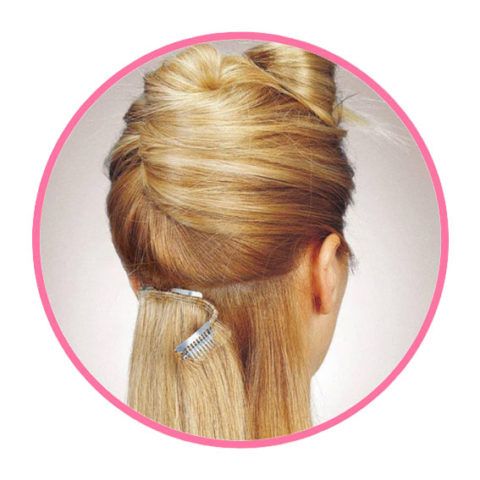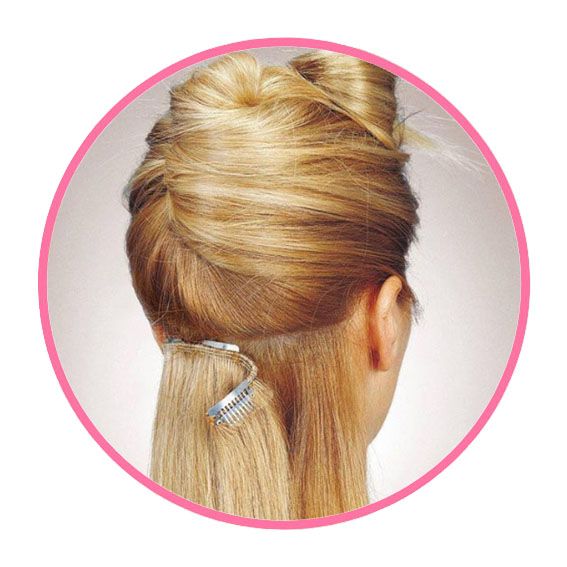 To install your fabulous new set of clip in hair extension just follow out the simple guide below.
Get your tools prepped
Your full set of clip-in hair extensions

Soft paddle brush

Clip

Mirror
You want to make sure that you have everything you need within arms reach so it's best to set up your mirror in front of you. Clip-ins can be installed while sitting or standing but have the clips, brushes and the hair set out flat on a table or clean and dry surface so you can pick each piece of hair quickly and not get them tangled or messed up or dirty in the process.
Go bit by bit
The best thing about clip-ins, is that they come in varying sizes so it's easy to see which part goes where, Starting at the top of your neck with the smaller pieces which will gradually get longer as you get to the middle of your head as they have to stretch further and then will start to get smaller again for the side pieces that go either side of your parting.
Take sections
To install the clip-ins, take a horizontal parting from ear to ear and separate the top piece into a hair band while you work on the bottom section.
Split this bottom section into two, so that you have a section that is an inch above your neck and secures the top section with a clip to the rest of the hair at the top of your head.
While working with just the bottom section, make sure your own hair is combed through and there are no knots or tangles, then take the small piece of clip-in hair, open the clips and attach the hair to either side of the section and then close the clips.
When the hair is in place, brush it through to make sure that it is is also tangle free and that is securely attached to your hair.
Then take the next section of hair that you had clipped to the top section and let it fall again making sure to brush and detangle it thoroughly.
Open the clips on the second piece of clip extension and attach it in the same way you did the first making sure to secure each clip as you go along.
Now that the bottom section is complete you can start working on the top section in the same fashion.
Clip in extensions look best when there is about a 1-inch gap in between each layer so take horizontal partings about this distance, going from hairline around the head to meet on the other side in the same place and then placing the matching extension as you have been doing.
Leave out and partings
When you have placed all of the clips in, you will notice that we don't put any extensions right on the bottom of the neck or they don't reach up until the hairline. No, you haven't bought the wrong size, they are not too short! This is so that you can leave some hair out to cover and blend in your extension so if you want to wear your hair in a ponytail and you still have some of your hair covering the extensions, as the whole point of clip ins is to make your hair look longer, not like you have artificial hair.
At the section around your parting, you want to make sure that there is enough hair to cover and blend extensions, so leave about half an inch either side before placing your last extension and you can use the smaller pieces in the pack to do this.
If you have a side parting, you want to make sure there is still a good balance of hair on each side so you may want to place a few more rows on the shorter side just that it looks as full as the other.
Blend them in
If you follow the steps above correctly and the hair is a good color match to your natural hair, there shouldn't be much work to do when blending the extensions in.
Depending on the style that you choose to wear with your extensions, you may need to either smooth the edges or make sure that each clip plays completely flat against your scalp for a smooth and sleek finish.
The beauty of clip in extensions if you have one that is slightly misplaced, it takes only seconds to go in and reposition it for a better look.
You can also use styling products such as hairspray or lights gels and creams to create the perfect style and look that you want without worrying about damaging the hair extensions.
We write a comprehensive article about How to install. If you're curious about it, you can read it here.
How do I style my clip-in hair extensions like my real hair?
One of the biggest perks of clip-in extensions is that they are ready to go style, you can literally just clip on the hair give it a quick brush and then leave the house to any event that you need to attend. If you are looking for a style with a little bit more of a wow factor, then you can opt for clip in extensions that have been pre-curled or waved and then all you would need to do is curl your natural hair before you apply the clip in hair.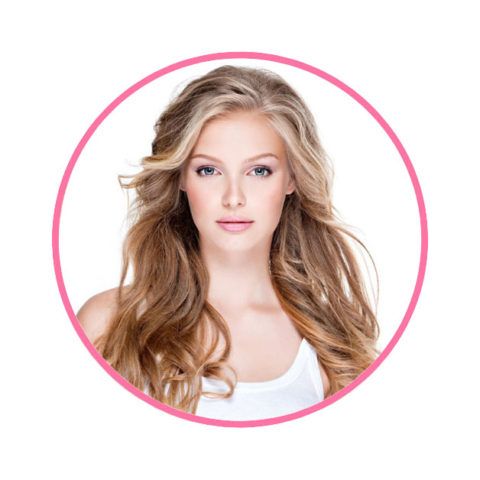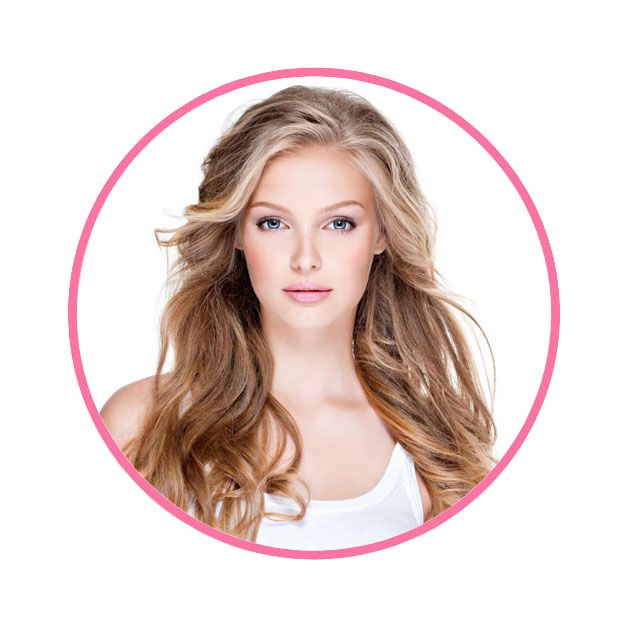 It is best to style your hair in the way you want before you put in the clip in extensions so if you need to straighten or curl your hair, then you would do this beforehand so they match the texture of the clip in extensions if they are synthetic.
With human hair clip in extensions, it is a little bit easier to style the hair once the clips have been placed in the correct position but again you can do this beforehand and then click them in.
You can wear clip in extensions out and free or tied up in a ponytail, the choice is yours. Just make sure that none of the bonds are showing by having enough hair covering each section then you can use any styling products as usual to finish off. We have another blog post, dedicated to dutch braids which you can read here.
With synthetic hair extensions, you won't need to apply any products to them and be careful not to use any oils or creams on the extension as you don't want them to get damaged. You also want to ensure that no products get onto the clips themselves as if they are metal or plastic it could cause a reaction. If they do happen to get a little bit on them that's not a big deal you can just rinse them with warm water and make sure they are dried thoroughly.
How to wear clip in hair extensions?
As long as you cover the clip part of the extension then you can do almost any style imaginable. With your clip in hair extensions that range from having your hair completely down, a ponytail or half up half down.
While some people may feel that clip-ins hinder the range of styles you can do that is false and often it opens up more different and varied styles that people can usually do with their normal hair.
Some use clip-ins to give extra length but they also add volume to your hair so even something simple like a messy bun will go from a 2 to 4 out of 5 just by having clip ins.
YouTube and Instagram are great for tutorials or new styles and having extra hair can make you more adventurous and willing to try out different styles that you may have initially thought wouldn't suit you or you just don't have enough hair for.
Use the opportunity when you have clip in extensions to really play around with your hair and go wild with all the different styles that you can create. You can choose a theme such as a different era, an example being the 80s, the 60s or 70s and we create a hairstyle from this time or you can choose a current trend such as braids to make it more modern.
How long do clip in hair extensions last?
Clip in extensions are a temporary extension meaning that you have to put them in and take them out daily. Also, although some people may prefer a longer type of extension, clip-ins allows you to change up your style whenever you need to: for special occasions, date night or just because it's the weekend.
When you have bought a good pair of clip-in extensions, you might be wondering how long will they last and this really does depend on the quality of the hair and how you treat them.
For synthetic clip in extensions, we would say they can last anywhere between 4 to 6 months and a year with regular use up to 3 times a week. Gradually as you wear them, the hair can start to become dull looking of frizzy and as the hair is synthetic, it's harder to reverse this process so you can expect to change your clip in extensions maybe 2 to 3 times a year.
Human hair extensions have the capacity to last a lot longer than synthetic hair extensions because they can be regularly maintained and cared for. A set of human hair clip in extensions from Canada Hair can last anywhere up to a few years if you are really careful and gentle with them however some people like to change their set every year just because they're aesthetic or style may change.
How to wash clip in hair extensions?
So you have been wearing your hair extensions for a couple weeks and they're starting to smell a little less than fresh and now it's time for your first wash so what do you need to do?
If you have synthetic hair extensions then we suggest washing or cleansing them after every 15 years which is roughly once a month.
Human hair extensions require you to do a little bit more and we suggest you wash them after every five or so years, which is on average about every fortnight.
The process is a little different for each type of clip in extensions and we will focus on synthetic hair first.
Remember we told you that synthetic hair is made from artificial fibers, therefore you don't need to treat them like natural hair when you wash them. All you really want to do is cleanse them of any extra dirt or debris from while you have been wearing them.
You can rinse them quickly under warm running water holding the clips together and letting the water trickle down the length of the hair. Then using a mild shampoo, smooth this over the hair and then give it a rinse.
Synthetic hair can get tangled very easily so you don't want to swish or scrub. If you don't hold it together you end up with a knotted mess that is unusable.
You don't need to use a conditioner or any fancy creams or serums, just make sure all of the dirt and shampoo is rinsed out thoroughly and allowed to air dry flat. Once it is dry, you can then use a large brush or wide tooth comb to gently detangle, as when its wet it becomes very elastic and can snap.
Washing human hair clip in extensions is really easy and just follows the same steps as you would wash your own hair. You can choose to do it under running water or in a bowl filled with warm soapy water.
When conditioning the hair extension, try not to get any of the product too close to the roots or where the clips are as it can damage the hair and make them greasy in the long run. Aim for a least 2 inches down.
Where ever possible, always try to deep condition or leave the conditioner to soak in for a least 30 minutes before rinsing.
You can expect some shedding with these extensions, so always be gentle and detangle with your fingers first to minimize any extra hair loss.
Dry the extension on a flat towel or smooth surface will work to reduce the possibility of damage when compared to using a blow dryer or other heated tools.
Just before the hair is completely dry, when it's still a little bit damp to the touch, you can add a little oil such as Argan or jojoba or a serum to help smooth and coat the strands.
When the hair is completely dry, you can store them as usual without styling beforehand unless you plan to year the straightaway.
How to care for clip in hair extensions?
A lot of people are put off by clip in extensions because they think that any type of extension comes with a high maintenance list of things that you have to do to keep them looking tiptop but honestly, clip-ins are just as simple as the installation process. There are just a few simple steps you need to follow and your hair extensions can last you at least a year if not more.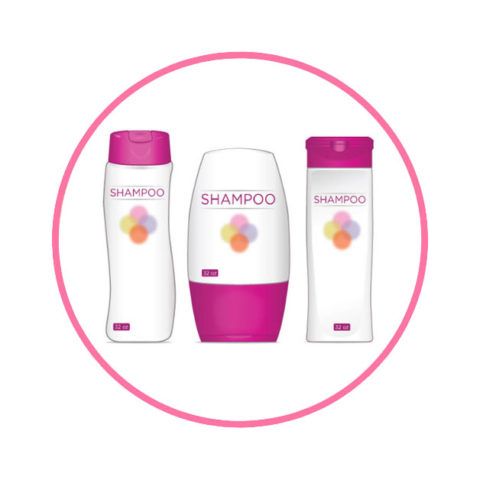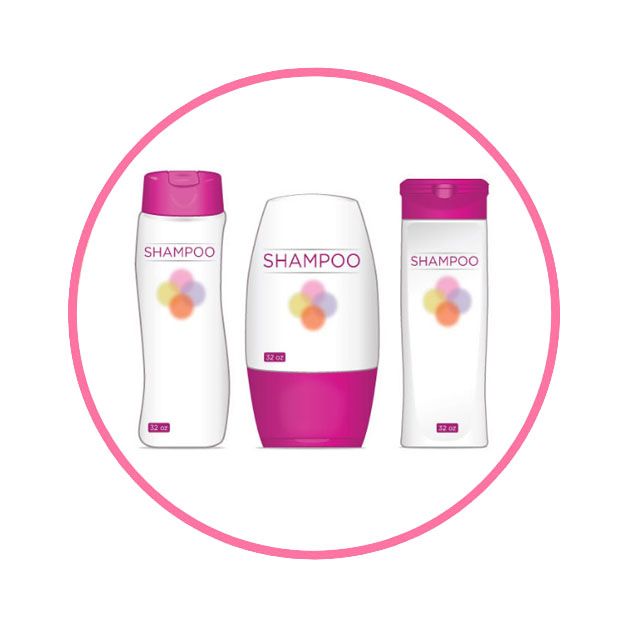 Plus, the hassle is minimum, there is nothing that you have to do that you wouldn't do to your own hair and more or less, you can use the same kind of products as long as they don't have any nasty or harsh ingredients.
If you have synthetic hair clip in extensions, we suggest you avoid heat at all costs even though they can be heat resistant in some cases.
If you do want to style your clip in extensions, it is best to purchase human hair clip ins because you'll be able to use heat, such as a blow drying, curling, and straighteners without potentially causing the strands to melt or be damaged.
When blow-drying, keep the setting on cool. It is good practice to attach the clip-in to a hanger so that you can blow dry downwards. This will help to not only smooth the cuticle but will prevent the hair getting tangled as it is being blown in loads of different directions.
If using a curling iron or straighteners, or any other heated tools, always set the temperature at a maximum of 150°C. However high they can go on the gauge you don't need to do that.
Always aim for one or two passes maximum and allow the hair to cool down as this will help the style to set and hold for a longer amount of time.
The most important thing when using heat is to always use a heat protectant and not spray the hair with any styling products before hand and also make sure that the hair is completely dry. If not, you shall hear a horrible sizzle and damage the strands from the inside out which is irreversible and causes split ends or damages the color of the hair.
Minimize washing and styling
Even if you wear your clip in extensions every day, there is no need to wash them as often as you would with your own hair, remember, because they're not growing from the root, they are less likely to get a buildup of grease like your own natural hair or does.
Synthetic hair can go for about 20 wears without being washed or cleansed, as long as you keep away from harsh smells and do not use any products on them.
Human hair extensions require washing every 5 to 10 uses so that's probably an average of once or twice a month depending on how often you wear your extensions.
Like we said that excess heat styling can cause damage, you have to be just as careful with brushes and combs. They can leave micro tears in the hair shaft and cause split ends or tangles to occur.
The best way to avoid this, is to choose clip-in extensions that match the style you would want to wear most regularly and as they are very cost-effective it's great to have a few sets in different colors and textures so that you don't have to waste time straightening or curling your extensions every time you want to switch up your look.
Many people who have clip-in extensions, especially synthetic get around this by doing dry or wet sets. This is where the hair is manipulated while it is wet (or dry) by using rollers or laying them flat and brushing them out to recreate a texture or style. This process can take longer and is not suitable when you're in a rush but when you plan ahead and do this after you've washed or cleaned the hair and have a few days in between to allow it to air dry naturally. If you live in a hot climate you can leave them outside just away from direct sunlight or anybody else who might pinch your extensions.
Excessive heat can damage the curl pattern and texture of the hair so if you have: curly, wavy or kinky clip in extensions you must really minimize your use of heat where possible and only on special occasions. Because if you want your clip ins to last then you can buy an additional set with a straight texture to save you having to go through the effort of switching between the two.
If you pay any attention to the news you know that many large companies are coming under fire for the chemicals that they put into food and beauty products, one of the worst offenders is sulfates.
For many years, people thought they were harmless and they had been used as a cheap substitute for soaps and detergents, but new research is showing that not only are they damaging to the hair and scalp itself, but repeated use of these chemicals can cause allergic reactions and sensitivities. So if after you shampoo, you find that your scalp is irritated or red or worse, chances are you could have a much more severe reaction and definitely need to stop using them.
There are many natural alternatives and sulfate free shampoos that are very cost-effective and easily available at local grocery stores that won't break the bank but will do wonders for your hair, skin, and clip-on extensions.
Another point to note is that sometimes instead of these harmful chemicals some companies will promote that they are natural but use something in its place that is just as harmful as sulfates. Always do your research on the ingredients list to make sure that the products you choose are actually safe and healthy.
Once the hair leaves the roots and appears on the scalp, essentially all the cells are dead and so even though we use lots of pills, potions and fancy creams to look after our hair, they only a few improve the physical appearance and will not do much with the structure. So with clip-in extensions, you don't want to spend all of your money on buying products to improve the look when a simple care regime as listed above, will do just that for you.
Also if the hair becomes overloaded with products they become limp, greasy and horrible to look at. Always style your hair first with the products you need and then apply your clip ins and add a finishing spray just the extra hold. Then you can brush it all out at the end of the night.
Some people say should brush your hair a hundred times today but who has time to be counting when Instagram needs to be scrolled and Snaps need to be chatting.
You can finger detangle your hair extensions to get most of the knots and tangles out but sometimes you do need to brush or comb just for that extra security of knowing that your hair is a smooth as possible.
If your hair extension is highly textured, then you can skip this process and just finger detangle as you don't want to brush out the curls and end up with a ball of frizz. In contrast, if you have straighter clip-in extensions than this process is really important because any lumps or bumps show up really easily.
After a long day of work or after an evening out, the last thing you want to do is come home take off your makeup, take out your clips and carefully put them away. It can often take ages but these small little routines will keep your skin and hair in great shape as you get older. You may not see the rewards now but you definitely reap what you sow later on in life.
Always take your extensions out at the end of every night because really they are very uncomfortable to sleep with in the first place and can cause damage because of the friction. If you are in a rush, leave them on your dressing table so in the morning you want to brush them and store them carefully in either the package they came in or hangers where they can be stored in the wardrobe away from harsh lights and smells or in a box where they are protected from dust and all the elements.
Where ever you choose to store your clip in extensions just make sure that they are put away nicely and not rolled like a pair of old socks remember you paid good money for them and so treat them like a gift so that they can last you for ages.
Hairstyles with clip-in extensions
Clip in hair extensions are ready to go hairstyle, which means that once you put them in you can literally leave and head out for the day without any extra thought.
You could also do so many more styles with clip in extensions than you may have been able to do with your natural hair due to the added volume and length that you now have at your disposal.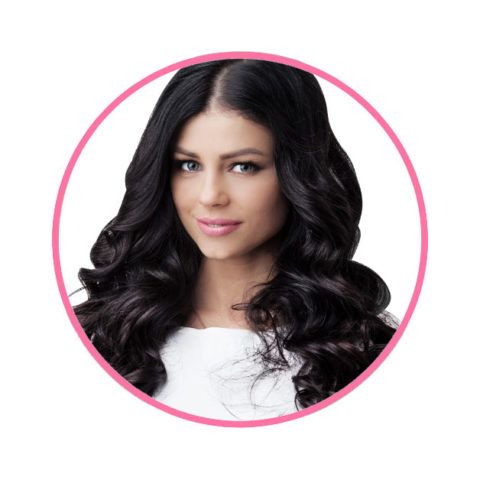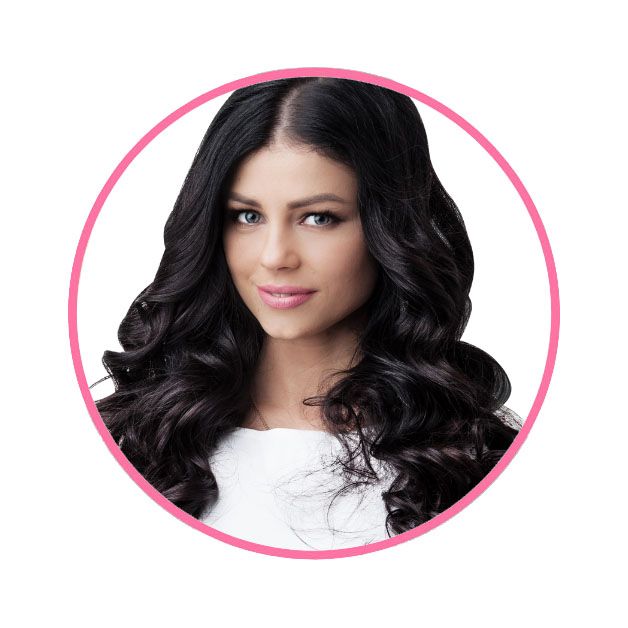 If you are looking for inspiration on how to style your clip in extensions, then all you have to do is flick through a few magazines or Instagram as any style you see there can easily be recreated with clip-in hair extensions.
When working with human hair extensions you do you have a little bit more options as you can style the hair with heat, as long as you take the right precautions. Synthetic hair come pre-styled and in a variety of textures so you can purchase a few different sets to match your needs.
When you have put in your extensions, don't be afraid to go wild and do you something that you normally wouldn't do. This is a great time to push out the boat and paddle out of your comfort zone. When it comes to your hairstyles, your hair is going to get attention anyway so you may as well make sure that it's for all the right reasons.
How to braid hair with clip in extensions?
Braids are so in, every season but this year they seem to be everywhere you look! From the runway to magazine covers everybody is wearing braids in fact even Queen Beyoncé and her recent Vogue cover, took a break from her normal extensions to show us how gorgeous her natural hair is with a few straight back cornrows.
If you feel that clip-in extensions are going to stop you from wearing braids then you are mistaken in fact they can take your braids styles from zero to a hundred.
The extra length and volume will give even the most simplest braids a high-fashion boost that is worthy of the finest Instagram filter.
Whether you are a novice or a pro, get to grips with braiding and learn how to do at least a three strands braid and a French braid as they are the simplest to do and the most versatile.
If you wear your hair down, a few three strand braids around your parting or even as a peek a boo throughout your hair and especially underneath will work best with colored clip-in extensions, as not only does the highlight accentuate the style but the braid will make you look super chic.
It doesn't have to just be just for a fancy event, if you work out or do any kind of activity where you want your hair to be out of your face, then braids are a great option.
A french braid goes perfectly with any gym outfit and will keep you cool and classy even when your cardio session has you huffing and puffing.
We have another blog post on the Canada Hair blog, dedicated to braiding your hair which you can read here however if you just want quick tips on braiding your clip in extensions then don't click the link until later on.
Braids can be done on synthetic or human hair alike and the process is it exactly the same for both hair types. It is possible to uses styling products on human hair to improve the look of your braids but this isn't always necessary.
Always have a pack of elastic bands or other accessories that you can use to not only to tie off the braid to stop it from coming loose but also add a little bit of glamour to very simple styles.
The fundamentals of braiding can be learned quickly but when it comes to wearing these styles with clip-in extensions, always make sure that the hair is detangled thoroughly first and that you take enough hair from the surrounding areas to make sure that the clips and the bonds are completely covered.
Our favorite styles of braids to do when wearing clip-in extensions are:
A braided ponytail
Halo Braid
or a half French braid that works with a headband.
Also, try adding some gentle curls to really adds an edge to any braided style.
What are the best clip-in hair extensions?
When selecting the best clip in hair extensions you really can't just go with the masses and pick any type of hair. For the best place to buy the clip-ins you want to choose a vendor with many options (hint hint: Canada Hair) but choose the actual type of clip-in extensions that are a perfect match in terms of style, budget, and lifestyle as we discussed.
What works for one person may not be suitable to your needs and so really think hard before you make a purchase as you don't want to have to you change your mind but even if you do we made sure that this process is not a difficult one and have a returns policy that takes into account change of heart or a mistake.
When you select your hair extensions:
Decide if you want synthetic or human hair

The texture

The length
Once you've decided on these factors then you'll be ready to purchase a brand-new set of Canada Hair Extensions.
What types of clip-in hair extensions I can buy?
Clip-in extensions are so commonly available that the choice is almost endless as to which type you can purchase.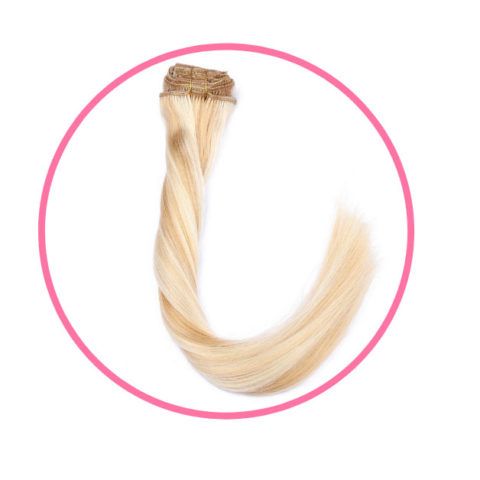 Every company that is in the Hair and beauty industry and even some fashion houses have started retailing clip ins because they know that is such hot property and women all over the world are looking way looking for ways to extend and volumize their hair for a fraction of the cost of other semi-permanent hair extension methods.
Whatever your personal style is you are sure to be able to find a clip in extensions that matches and accentuates your inner being.
In fact, there are so many types of different extensions, we would be hard-pressed to mention them all so what we did was a quick Google search of the different types available and below are some of the items that you fabulous ladies have been searching for.
If there are any on this list that tickle your fancy then make sure to click the link and head over to our web store to purchase the matching hair extensions to the description, but then always come back here to keep on reading our guide on how to look after, store and care for your clip-in extensions as that is the most important thing.
How to cut clip in hair extensions?
Even wearing your hair extensions for a while and having a really good care regime and taking all the right steps, the may start to look a little bit worse for wear or you may just prefer a blunt straight cut over the classic layered look. So it's time to bring out the hairdressing shears and snip away!
It can be tempting to cut the clip in extensions before you put them in however as we said when you wear the clip in extensions because they are at different heights, if you want to cut them all the same length you could end up with something that uneven.
If your plan is just to give them a quick trim, this will be safe to do without having them installed although sometimes you may need help from somebody else who has more experience with cutting hair so that you don't make any mistakes.
You can clip the extensions to a hanger so that it falls straight down and you don't have to worry about cutting anything else by accident apart from the piece you're working on.
If you can, spraying the section with water until it is slightly damp so you'll be able to detangle and brush it thoroughly so that your cut will be even and uniform.
Once the section is smooth, you want to hold it between your index finger and middle finger keeping them straight as possible and cut underneath your fingers, between your nail and knuckle.
After every cut you make, always make sure to comb the hair through again and then take a small piece between your fingers as you did with the first section.
You want to take this process very, very slowly as once you make a cut, there is no going back so it's best to smooth and comb several times before you make the cut just to make sure you are in the right place.
If your clip in extensions need more than just a trim, then we suggest visiting a salon where a stylist will be able to cut the hair into a style for you as most of us are novices with haircutting and even thought they make it look oh so very easy, it most certainly isn't and takes years of practice.
Best clip in hair extensions reviews
When we say we are the best hair extension company in Canada, we don't mean to brag but we are literally going on the feedback we have received from hundreds of clients since we started this business.
Everyday we get emails, tweets, and messages from people who have received their hair extensions from Canada Hair and can't wait to tell us how great they are.
We keep our business simple: we source and select the finest Indian Remy and synthetic extensions and then sell them to you.
At Canada  Hair, we care so much about our customers and work hard doing everything to ensure you have a great experience buying from us and with your hair extensions. Which is why we spend so much time and effort producing all of these articles and content to make sure that you get the best out of your clip in extensions.
Just so you can get an idea of what to expect from your Canada Hair purchase, we decided to show you some of our favorite messages from real clients with their clip in extensions.
Where to buy clip in hair extensions near me?
So now that we have convinced you that clip-in extensions are definitely the way forward and every girl needs to have at least one set in her life, you now would be looking for where you can buy clip in extensions.
Look no further! The only place you should be purchasing your hair extensions from is from Canada Hair!
Wherever you are located we are here to help you and are the premier retailer of hair extensions in Canada and the US.
Compared to other hair extension venders,  we offer far higher quality for the lower price plus you get tracked shipping, amazing customer service and a returns policy that guarantees you will be happy with your order at no extra cost or hassle to you.
Best clip in hair extensions brands
If you were searching for the best clip in hair extension brands and have noticed throughout this article but obviously we are going to say ourselves, Canada Hair.
We have a great track record of providing not only the best quality Indian Remy hair in Canada and North America but also because of our fantastic customer services.
By training all our staff on the latest extension methods and products we are able to help our customers with top-notch information.
When you make a purchase from Canada Hair, you can be sure that you are getting safe and reliable products that will only enhance your look without worry of side-effects or harm coming to your hair.
Our web store has a large selection of the finest clip in extensions in synthetic and human variations.
You can choose from a range of colors and textures so if what you're looking for is not readily available just drop us an email and we will do our best to source it for you.
Conclusion
Thank you for reading our guide on all things clip-ins, we hope that now you have a full understanding of these brilliant and easy to use temporary hair extensions.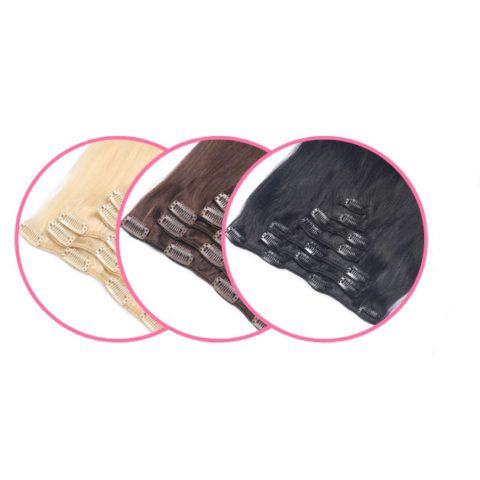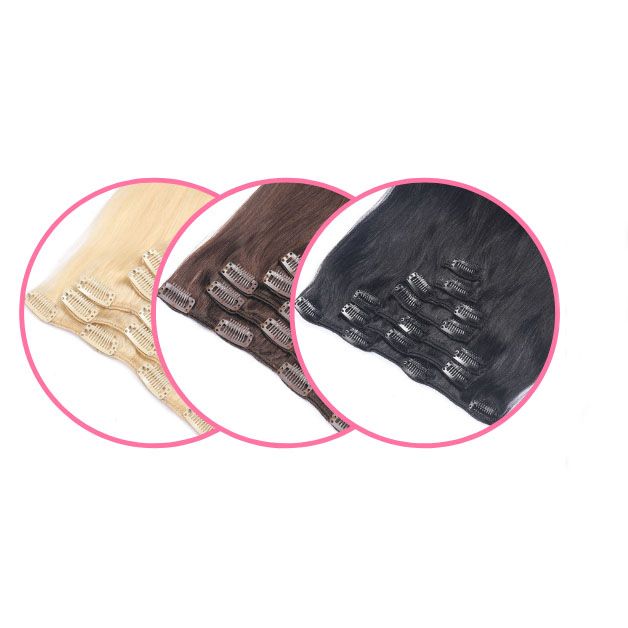 Clip-ins are a wonderful and quick way to revamp your look or take your hairstyle to the next level at the click of a finger and without having to spend any time in the salon.
Now that you know how to choose your clip in extensions, how to install them and how to take care of them next thing to do is make a purchase and that can be done on our website Canadahair.ca
While there, you can browse the amazing range of clip in hair as we have a very wide selections of lengths, colors and textures as always if you need any more information or any help to select and the best clip in hair extensions be sure to drop us an email or get in touch with us via social media.
We look forward to seeing all of your selfies with your new clip in hair extensions just make sure to tag us so we can like and repost.